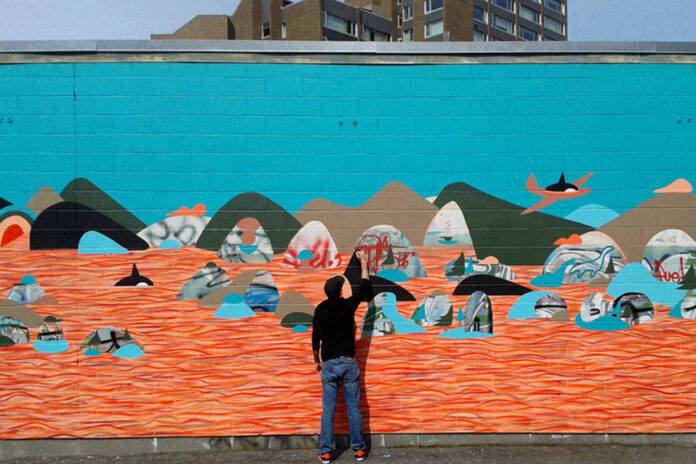 The nuanced prose of your favourite author, the echo of a live band playing in the street, the awe roused by an architectural landmark, the delight of a kid playing a video game, an alleyway brought to life by a colourful mural…
Art plays an integral part in our lives and our culture. It brings us joy, presents us with shared experiences through which we form social relationships, aids in our deeper understanding of ourselves and enables us to better communicate across cultures. It can also help us deal with grief or assist in addiction recovery.
Art can evoke emotion from the mundane (a song played on the radio in your grandparent's kitchen) or allow us to distil meaning from the profound (insert your favourite poem here). 
Greater Victoria has a vibrant arts and cultural scene that remains one of the pillars of why people love to live here. It engages residents, attracts visitors and new talent to the region, inspires our entrepreneurial and innovative spirit, and enriches our spaces — from the public realm to our neighbourhood coffee shop, and at home in our living rooms. 
With all these benefits, I could end the article here. But I'm here to tell you that beyond all this, art is good for the local economy too — as long as we continue to nurture it!
Economic impact of arts and culture
Across the Capital Region, arts and culture contributes about $800 million toward the GDP and employs over 10,000 people. 
If that doesn't seem like a lot, consider this: a 2021 report determined the cruise industry's local economic impact at about $332 million a year, supporting about 1600 jobs. Arts and cultural industries have three times the impact and created six times the jobs. 
Across Canada, there are 914,000 workers in arts, culture and heritage occupations, representing 4.4% of all Canadian workers. Compare this to other occupational groups in Canada; you'll see this workforce segment is larger than each of: hospitals, wholesale trade, farming and real estate: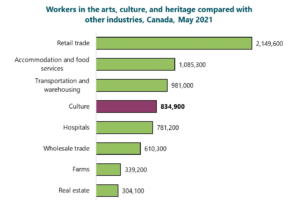 That's a lot of collective creativity being applied! 
The local scene
Here are some examples of where this 'art' is and who is supporting it locally:
CRD arts commission

and municipal-level support, including the

Victoria Music Strategy

or the

ArtSea Community Arts Council

on the Saanich Peninsula.
Various local arts & crafts organizations and guilds like the

Esquimalt Community Arts Hub

,

Vancouver Island Woodworkers Guild

,

Victoria Quilters' Guild

,

Island Illustrators Society

,

South Vancouver Island Potters Guild

,

Embroiderers' Guild of Victoria

, and

many others

.

 

Spaces for artists to work, like

Rockslide Studio & Gallery

,

Xchanges Gallery & Studios

,

Crossgrain Photographic Studios

,

Open Space Art Centre

and

more

.

Music, venues and festivals

, such as

Rifflandia

,

SkaFest

,

JazzFest

, & many more.

 

Vancouver Island South Film & Media Commission

works with production teams to facilitate all aspects of movie, TV and new media productions on the south island, which, in 2021, directly spent $60 million on productions and employed 2,000 people.
A number of a

rt galleries

, like

UVic Legacy Galleries

, the

Art Gallery of Greater Victoria

, the

Avenue Gallery

,

Gallery by Sooke Arts Council

.
Writers and poet competitions/organizations like the

Victoria Writers' Society

.
A growing p

lacemaking

network — yes urbanism is an art form too!
Industrial design and

nurturing the design community.

Indigenous artists, like those found in the South Island Indigenous Business Directory,

here

, or those featured by the Victoria Native Friendship Centre,

here

.

Creative Coast

– an island-wide initiative promoting cross-sectoral collaboration across arts sectors.
But it's not all rosy
While mainstream stars like Taylor Swift can rake in hoards of cash (her current world tour is bringing in record profits), most artists must find alternative ways of supporting their income to afford to do what they love. Some of the challenges faced by our local arts scene include:
Survival of venues
Thankfully, most venues in our region survived the pandemic (some had to exercise extreme ingenuity, like

Arts of View

org that saved Hermann's Jazz Club). Other venues like staple punk-rock venue Logan's weren't as fortunate, though the

Phoenix Bar & Grill

in Saanich is trying to fill a gap in the local punk scene. Venues remain an essential part of the local scene for artists and patrons alike.
One major gap is access to studios and rehearsal space. While there are some available, they are not inexpensive, and for solo musicians, most would be out of reach to achieve any sort of effective practice routine. For arts across other mediums, there is strong demand for space. Logan Ford, co-founder of

Rockslide Gallery

, can attest that their space for 80+ artists is at max capacity and maintains a lengthy waitlist.

 
Changing business models
As I write this, both the Writers Guild of America and the Screen Actors Guild are on strike. The main reason is the new business models brought forward by streaming (many artists rely on residuals to maintain access to health insurance, for example, and even appearing in a hit show on Netflix doesn't guarantee reliable income). Music streaming is no different. While it has opened the door to create a following without the need for major labels, the incomes it produces for artists is laughable.

 

Live music remains the best way for artists to earn income. However, even this has hit hard times as inflation has reduced operating margins for venues and patrons' ability to attend concerts and shows more than a few times per year.
Affordable ecosystem
While Victoria remains a safe haven for arts and artists, the housing market has many within the arts community worried about the viability of the ecosystem going forward. It seems every artist I've talked to as of late has a story about one of their friends or collaborators "moving to Montreal," where rent is lower and the scene is stronger.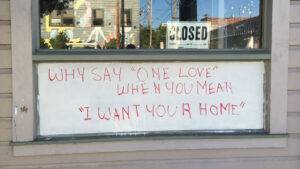 Despite these challenges, one thing I know about artists and creatives is that they will always find a way. But, as a community, we need to nurture the ecosystem to ensure that the arts and cultural sectors can thrive. What if the next Taylor Swift is hanging out in your basement right now with nowhere to practise, no network to teach her songwriting, and nowhere to perform to hone her craft? *Note: Taylor Swift's parents moved their family to Nashville when she was 13 years old so that she could access these types of ecosystem amenities.
A call to action
With all these amazing benefits and reasons to support the arts, some cultures around the world show a keen policy interest in ensuring that artists across a range of mediums can afford to create. For example, the Iceland Government operates an Artist Salary Fund that artists can apply for to receive anywhere between two to 12 months of income support. This is one of the factors that has led to Iceland's consistent ranking as one of the world's most innovative countries, where one in four people work in the creative sectors.   
Aside from this, here are some other ideas that could help ensure our artists (and our arts economy) can flourish for years to come: 
Procure from local artists and designers as C12 Brewery did with their beautiful

Continuum packaging

(produced by local printing guru

Metropol

) or as

 

Phillips Brewery did by working with the

 

sign-making Dobell Brothers.
Commission or buy local art for your workplace, home, cottage or for gifts.
Engage a street artist to paint a mural on your building. Not sure where to start? Talk to

Humanity in Art

.
Support venues, events, festivals and invest in things that make our region more interesting.
Donate to arts organizations. I've linked to many in this article.
Draw inspiration from other cities, places and organizations and apply it locally (two collaborators and I put together this lengthy list

here

).

 

Support diverse housing forms in every neighbourhood (even your own). Even if you're comfortably housed, your favourite artist might be packing a uHaul for Montreal as we speak. Send a message to your municipal hall that you value artists and want them here.
Dallas Gislason is the Executive Director of Community Economies at South Island Prosperity Partnership (SIPP), the economic development alliance for Greater Victoria he helped found in 2016. Dallas has applied his passion for building resilient and inclusive economies through projects and boards in various parts of Canada, the U.S. and abroad. He's lived on Vancouver Island since 2010.