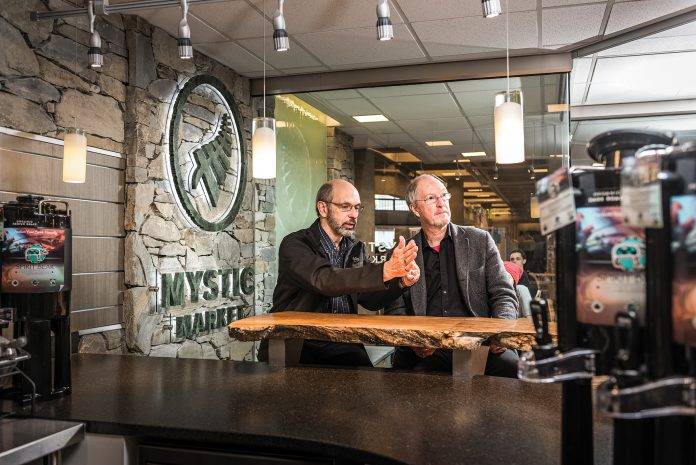 Mystic Market, the University of Victoria's redesigned cafeteria, is winning rave reviews from students and faculty. Its success speaks to the power of creative collaboration between client and designer.Mystic Market, the University of Victoria's redesigned cafeteria, is winning rave reviews from students and faculty. Its success speaks to the power of creative collaboration between client and designer.
An unmistakable expression of pride lights JC Scott's face as he watches jostling groups of students surge up the boardwalk, intent on grabbing lunch between classes at the University of Victoria's Mystic Market.
"It's not very often that I am really this proud of something, but this is one of the most successful projects I have worked on," says Scott, of JC Scott eco Design, watching the activity at the University Centre space that formerly housed a utilitarian cafeteria and the Maltwood Art Museum.
Scott's redesign has transformed the space into a bustling hub of West-Coast-style food kiosks, linked together by flooring resembling a boardwalk, and surrounded by clusters of seating, ranging from café tables to lounge-style groupings around fireplaces. At the entrance is a store, loosely based on Coombs market, where customers can grab sushi, cheese and veggie platters or freshly made sandwiches.
"The concept is a local market — with a boardwalk through a forest," Scott says.When the idea was in its infancy, about five years ago, Thomas Bain, director of UVic's food services, researched projects at the handful of other Canadian universities that operate their own food services and then decided on a West Coast theme.
"I wanted to do something really interesting with a wow factor," he says. "I Googled West Coast Trail and there was a perfect image with a raised boardwalk and trees surrounding it.
"As the project took shape, the name Mystic Market was chosen to reflect Mystic Vale, the university's own woodland trail.
Food choices a key factor
The idea, although inspired by the desire to build a unique eating and meeting place, also had some compelling recruitment reasons for going ahead. Studies have shown that while location, programs and reputation are the main drivers in choosing a university, food services do play a part, according to Bain and Scott.
"Good food is part of the draw," noted a student interviewed in the 2012 Macleans University Rankings.
In fact, the June 2013 Canadian University Survey Consortium report showed only 27 per cent of students interviewed about food services at Canadian universities were "very satisfied" — leaving ample room for improvement. One of the goals of Mystic Market is to overcome cafeteria stereotypes.
Unlike most Canadian universities, UVic has eschewed franchises and Bain was delighted when, after consultations, students voted overwhelmingly in favour of a cafeteria redesign that would feature in-house brands with local purchasing.
"Thank heavens we got the right answer," he says.
Students Like Local
Warner James Architects Inc. was selected to handle the transformation, and JC Scott, with a decades-long history of eco-friendly designs, was brought in as the consultant."He put in the interesting design aspects combined with what we were already doing sustainability-wise," Bain says.
A top-notch team, a shared vision and clear goals of an environmentally-friendly project, with healthy, delicious local food, helped make the $7-million renovation run smoothly, according to Scott.
"The quality of the food is something I really bought into," he says, adding that he is personally offended by the thought of universities offering fast-food, franchised meals.The only small disagreement was Scott's insistence on an outdoor seating area — an argument he won — and, as he surveys the results of his work, he looks with satisfaction at the number of outside tables in use, despite the cool weather.
Doing the Right Thing
It proved more expensive to build an environmentally friendly project, but, in the long run, says Bain, it is good for UVic's bottom line. The obvious popularity of Mystic Market is a bonus and the loan from the university, which funded the project, is being paid down from the proceeds.
"By branding our own operations, the money stays entirely on campus and is able to go towards renovation/expansion projects like Mystic as well as to maintaining and refreshing our existing operations," Bain says.
A requirement was to make Mystic Market into a zero-waste facility and, with lines of recycling bins outside the kitchen, the diversion rate into recyclables and compost has reached 100 per cent.
"It was not that easy, but I think we have got it now," says Bain, explaining that some suppliers changed packaging after being told to take back non-recyclables. Sorting is done in the kitchen as cross-contamination became a problem when hurried students put waste into the wrong bins.
Design Drives Use
As Scott walks around the market, he revels in design aspects of the food kiosks. "Some of the wood is detailed to remind us of First Nations or the old British navy," he says, pointing to the distressed siding. Another kiosk is designed to look like an old food truck, with sheets of quilted metal.
The shape of a tree arches over one area, while another has "metaphorical clouds." The water station has a bubble-effect backsplash and the pebbled flooring resembles a beach. Two small "living walls" are each made up of more than 200 plants.
Seating areas include a raised bench  — a design that always allows one more person to fit in — flanked by an electrical bar allowing students to plug in phones and laptops.Although the area is packed with students, conversation is easy because of acoustic panels, combined with careful use of wood and fabric.
"For me, the acoustics are near the top in environmental design," Scott says.Light is maximized by skylights and LED panels, another element that is more expensive to install, but saves over the long-term.
Customers Give High Marks
Sandra Hagedorn, coordinator of retail operations, who rushes out of the kitchen to greet Scott, says when Mystic Market opened at the beginning of this university year, it was an instant hit.
"It is absolutely wonderful. The feedback we have been getting is so positive. It's such a lovely place. The kids come here to do their homework and meet their friends, and there are faculty meetings [held here]," she says.
That is music to Scott's ears as one of his initial aims was to break down barriers between faculty and students by providing a common meeting place. As an added bonus, a growing trend, especially on weekends, is for community members to drop in, attracted not only by the surroundings, good food and perks such as all-day breakfast, but also by great prices, according to Hagedorn.
With a free-run, two-egg omelette with three toppings, rosemary potatoes or a fresh fruit kabob going for $6.99 or a salmon burger on a brioche bun for $7.50, it is a point that is difficult to argue.
Although hamburgers and pizzas are available, one of the longest lineups, on a busy weekday lunch hour, is the vegetarian kiosk where Hayley Ford, a third-year social work student, chooses the vegetarian chili.
"I would say this is the best option on campus. It's definitely the nicest place for sure," she says.
Tamara Chavez, also studying social work, has a specific reason for liking Mystic Market.
"It has lemon cucumber water," she says happily.
For Bain and Scott, the concept is paying off in both satisfaction levels and the bottom line. Since Mystic Market opened last year, figures show an increase in sales of about 50 per cent over the old cafeteria. And by any measure, that's healthy.
Captions: Thomas Bain, director of UVic's food services, and JC Scott of JC Scott eco Design, observe how UVic students and faculty interact with Mystic Market's new design.