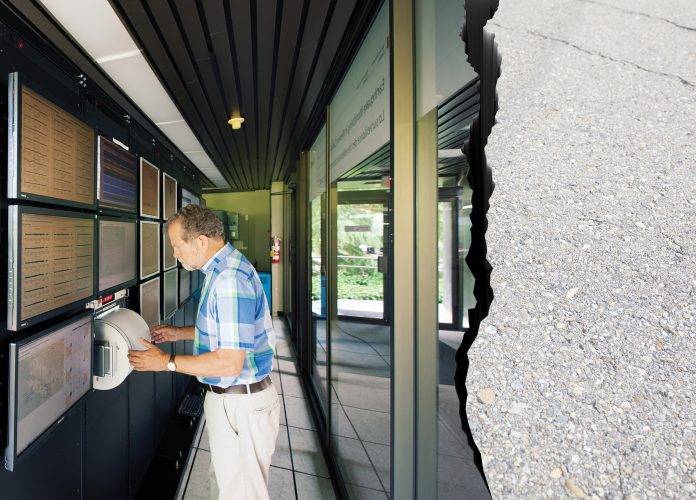 Experts agree that Vancouver Island can expect a massive earthquake — not if, but when. Douglas explores what business owners need to do to protect their assets and their people, how to buy the right insurance packages and how to create safety preparedness plans.
Look, we know you don't want to think about an earthquake smashing your business.
For most business people, this week's challenges and opportunities are more pressing than preparing for an earthquake that might not happen in your lifetime.
But take it from Eric Livingstone, managing director of Livingstone Business Consultants. If you don't have an earthquake disaster plan, you're missing your best chance to recover from a disaster. And to avoid losing everything you've worked so hard to build.
Livingstone knows. He was there on February 22, 2011, when a lunchtime earthquake shattered Christchurch, New Zealand. The quake was devastating — 185 people killed, 45 per cent of buildings in the core destroyed or left too dangerous to enter, water and electrical infrastructure in ruins.
"It was chaotic and frightening," he says. But as Livingstone started to help companies deal with the earthquake, one thing became clear: businesses with any sort of disaster plan — even a sketchy one — fared much better in the aftermath.
Create your Blueprint for Survival
Basic preparation is cheap, easy and makes a huge difference in determining whether your business survives or dies.
So why don't we do it?
"A low perception of risk," says Aaron Sutherland of the B.C. branch of the Insurance Bureau of Canada. The threat of an earthquake seems remote.
But a 2013 study by the bureau estimated a 30-per-cent chance of an earthquake causing significant damage in the next 50 years. That means an earthquake is more than twice as likely as fire in your home or business. We take fire risk seriously, buying insurance and smoke alarms and fire extinguishers. Yet when it comes to earthquakes, we mostly hope for the best.
"There are very few businesses that have actually taken steps to be adequately prepared," says City of Victoria emergency coordinator Rob Johns.
Part of the problem, says Johns, is owners and managers fear that developing a business continuation plan is complex and costly.
Simplicity is Key
It doesn't need to be. Any effort is better than burying your head in the rubble.
Robert Black of Black Shield Preparedness Solutions in Saanichton stresses simplicity. He recalls presenting a 50-page disaster preparation guide to a meeting of small business owners. "I saw the eyes rolling," he says.
Black now suggests people start with a two-page worksheet, which identifies the main possible problems post-disaster and sets out responses and responsibilities.
If your supply chain is broken, for example, how long can you last without the materials and what backup plans can you make?
If your building is damaged, what options do you have for relocating? There is likely no bulletproof plan, but it helps to know if someone in the organization has a heated barn or where space might be rented outside the quake zone. (The Christchurch Chamber of Commerce staff of 30 people worked out of CEO Peter Townsend's home for six months. "It would have been nice to have a better backup plan than my house," he says.)
What would happen to your customer base if you were closed for a week, or six months?
If you're a downtown restaurant, and the streets are off-limits, as they were in Christchurch, how long can you go without cash flow? What's your plan to tell your clients what's happening, and keep some revenue coming in so you don't lose key staff?
In Christchurch, Sarah and Martin Aspinwall owned a business importing and selling gourmet cheese. After they saw their store crumble in the quake, they borrowed a van, snuck into their condemned building to salvage some stock and started selling anywhere people gathered. (And they collected email addresses from every client who showed up at the van so they could keep them informed of sale locations and — eventually — their new store.)
Act on Your Plan
Don't overthink the plan, says Johns. "It's an exercise in asking key questions, writing down the answers and sharing the plan. Most of this is actually not that hard." The actual plan can be just a few pages.
Some measures are obvious. Backed up computer files and contact lists are useless if they're buried in rubble. Storing information in the "cloud," even with simple solutions like Google Drive and Dropbox, can be critical to keeping the business going. (Just because the measure is obvious, doesn't mean businesses get around to doing it — even a large accounting firm in Christchurch lost access to its computer files for weeks when its high-rise office was off limits.)
But Livingstone says businesses who had taken that step faced unanticipated snags. Phones were overloaded, power was out and communication near impossible. Having an ally in another community, armed with the contact information, can make it possible to communicate with customers and suppliers on recovery plans and timelines.
No plan can contemplate all the possibilities. And the first hours after a significant earthquake would be chaotic and focused on rescues and accounting for missing employees.
But taking basic steps to prepare a plan pays big dividends, in part simply by reducing stress and freeing owners and managers to make better decisions on the first day, says Johns.
Those first, fast decisions are critical. Everything was in short supply after the earthquake, says Livingstone, and businesses who knew what they needed and acted quickly had a great advantage.
Speed Matters
"The big thing is to be the first to go and find the best temporary premises," he says. (Temporary sometimes meaning several years as the city is rebuilt.) Undamaged space was at a huge premium, and some businesses that moved more slowly simply had nowhere to function. Generators, vans for mobile business, computers — the first movers secured the necessary tools for survival.
And Robert Black notes that speed matters. "If you're the first to open your doors, you have a great opportunity."
Having a plan allows business owners to think strategically, instead of worrying about finding a backup copy of the staff contact list.
Experts talk about "business continuation" strategies, but often what's needed is total business reinvention. "All your plans for expansion have gone out the window," says Livingstone. Managers need to rethink the business and implement new plans on the fly.
Sussie Morrish, a business professor at the University of Canterbury in Christchurch, has spent the last four years focusing her research on the earthquake's effects on business, especially the hospitality industry.
Speed and innovation were keys to survival, she says. Coffee shop owners snapped up vans and started serving customers anywhere people gathered. (Sometimes at no charge, building loyalty in a tough time.) Fine restaurants in the abandoned central business district reinvented themselves as daytime diners in temporary locations. Stores reopened in shipping containers. (Shipping containers are among the most useful assets after a disaster; Christchurch even had container "malls.")
One company Livingstone worked with realized its client base in Christchurch was gone and not coming back anytime soon. Managers had to devise a strategy to reach potential clients in other cities, or the business would fail.
Morrish says businesses who had already staked a place in social media had a big advantage. When you reopen, you need a way to tell your clients where you are and what you have to offer.
Your Network is Crucial
Which leads to the biggest lesson from Christchurch, one reinforced by experts here. After an earthquake, relationships — with employees, suppliers, clients, other businesses owners — mean the difference between success and failure.
Employees are shattered, fragile and worried about their homes, their children's schools and their futures. They need support, and businesses need to have earned loyalty and commitment or staff will flee for safer cities.
Morrish says businesses quickly realized they needed to work together. "There was a lot of competition at that time," she says, "but after the quake there was 'co-opetition.'" Businesses would share locations — a coffee shop by day, restaurant in the evening, bar at night, all with different owners. If one business ran out of supplies, a competitor could often be counted on to help. Working together increased the chances of survival, she says.
Townsend said the chamber of commerce championed a cooperative, united approach to business recovery. It was back in business two days after the earthquake and immediately began working with the entire business community, not just members.
"We stole the mandate," he says. "We declared ourselves as the sole provider of immediate help." The chamber set up a website to share information and eventually opened 30 business recovery centres.
Most critically, the chamber sounded the alarm about the need for quick government aid. "The important thing for us was how do you ensure business survival," he says. "The critical thing was that companies have cash flow."
The New Zealand government stepped up with a guarantee to cover a share of employee salaries for six weeks on a "high-trust basis." Owners simply had to submit a request and the cash started flowing. The revenue promise meant banks were more confident lending or allowing access to lines of credit.
But — and this is a very big but — don't count on it happening here. Even Townsend is surprised how quickly New Zealand's government reacted, with the bailout plan approved in three days.
Black notes that governments are overwhelmed trying to respond to a significant earthquake. "In the short term, their priority is health and safety and saving lives," he says. "In a lot of cases, government's approach to business is that it's up to you."
There's no time like now to ask yourself: "What will my business do?"
Earthquake Preparedness Resources

City of Victoria resources and guides for businesses
City of Nanaimo resources and guides
City of Saanich resources and guides
http://www.saanich.ca/sep/
CRD preparedness resources and guides
B.C. Emergency Preparedness for Industry and Commerce Council earthquake planning guide
Insurance Bureau of Canada emergency preparedness guide