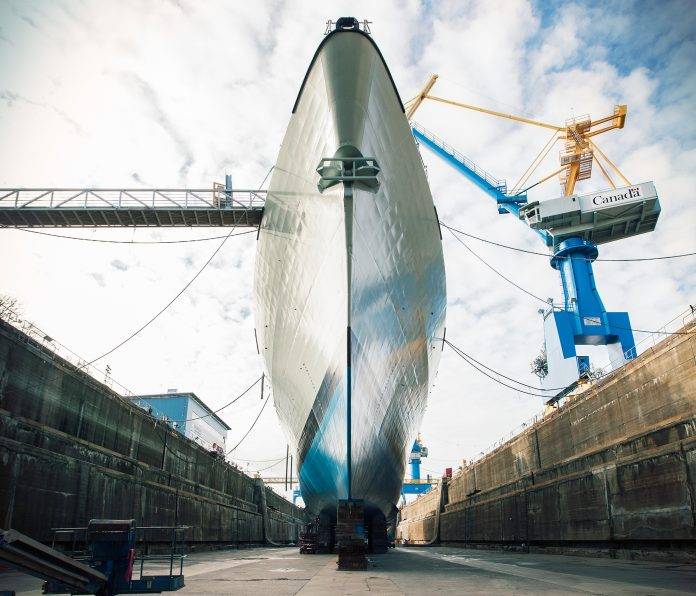 With 2015 under our belt, we wanted to look back at the photographs that resonated with us. We collected a few of our photo highlights, including booming local businesses, twists on open-concept offices, the city's leading business innovators and a glimpse into Victoria's Mayor Lisa Helps vision for the city.
We are looking forward to another great year of discovering the talented businesses and innovative entrepreneurs that Victoria and Vancouver Island has to offer.
1  SHIP TO SHORE
Photo: Jeffrey Bosdet/Douglas magazine
Article: In the Know
Kicking off the year, the HCMS Ottawa, a Royal Canadian Navy Halifax-class frigate, towered over the camera at the Esquimalt Graving Dock. Seaspan's current involvement with the HMC FELEX program to modernize five of Canada's West Coast navy frigates could result in foreign ships — and money — coming into the local shipyard.





2 BUSINESS CHAMPION
Photo: Jeffrey Bosdet/Douglas magazine
Article: "Wired for Success" by Nevin Thompson
Bobbi Leach, CEO of the e-com phenomenon RevenueWire, confidently strikes a pose for one of the most popular covers of 2015. Starting at RevenueWire as employee #18 and swiftly becoming CEO five years later, Leach gives exclusive insight into the challenges to find qualified tech employees, her passion for startup companies and the obstacles women face in the tech world.



3  GLORIOUS GROWLERS
Photo: Jeffrey Bosdet/Douglas magazine
Article: "Tapping into Craft Beer Culture" by Athena McKenzie
Located in Duncan, Red Arrow Brewing Company's passion for their own craft beer is reflected in their sales – over 800 growlers were sold in their first two months of business!



4  POLITICAL ENTREPRENEUR
Photo: Jeffrey Bosdet/Douglas magazine
Article: "We Are An Entrepreneurial City" by David Lennam
Victoria Mayor Lisa Helps gave the camera a glimpse of her down-to-earth personality and entrepreneurial spirit. She sat down with Douglas for the February/March issue to explain how she wants to run the city – through good planning, building a strong team, and most of all — hard work.



5  ONE TO WATCH
Photo: Joshua Lawrence
Article: "6th Annual 10 to Watch Winners"
One of the benefits of working with Pretio Interactive, one of Douglas magazine's 2015 10 to Watch winners, is their fun, open-concept office where employees share a space with a Boler camper and VW van.



6  THE CHAMBER'S NEW CHAIR
Photo: Jeffrey Bosdet/Douglas magazine
Article: "Find a Way to Say Yes: One on One with Al Hasham" by Kerry Slavens
Al Hasham, owner of Max Furniture and Maximum Express — and the new chair of the Greater Victoria Chamber of Commerce — met with Douglas in November to discuss his new role and his desire to make a positive difference.



7  FOR PEETZ SAKE
Photo: Jeffrey Bosdet/Douglas magazine
Article: "Gone Fishin'" by Kerry Slavens
PEETZ craftsman and owner Bill Hooson punches out brass reel components for use in the Rock Bay company's handmade fishing reels. The Artist Series from PEETZ features limited edition mahogany and brass fishing reels carved by Kwagiulth artist Jason Hunt.



8  NON-TRADITIONAL RETAIL
Photo: Jeffrey Bosdet/Douglas magazine
Article: "Retail Goes Off the Grid" by Athena McKenzie
Paul Long (left) and Nick Van Buren of Anián relax outside their custom surfboard and clothing business on Discovery Street. The unique space is Canada's first 100% solar powered, off-the-grid retail store, workshop and music venue.



9  TUG O' WAR
Photo: Simon DesRochers
Article: "How Do Couples Survive in Business" by Mike Wicks
Photographer Simon DesRochers had fun on this assignment shooting five couples who manage to successfully live and work together. We won't reveal which side won!



10  THE SUDSY BROTHERS
Photo: Jeffrey Bosdet/Douglas magazine
Article: "Going to the Dogs is a Good Thing" by Kerry Slavens
Klaus and Ferdinand, two pitweiler puppies, were the star of the December/January issue's Last Page. Both pups were up for adoption at Broken Promises Rescue, a volunteer-run, non-profit society that helps find permanent homes for homeless animals.