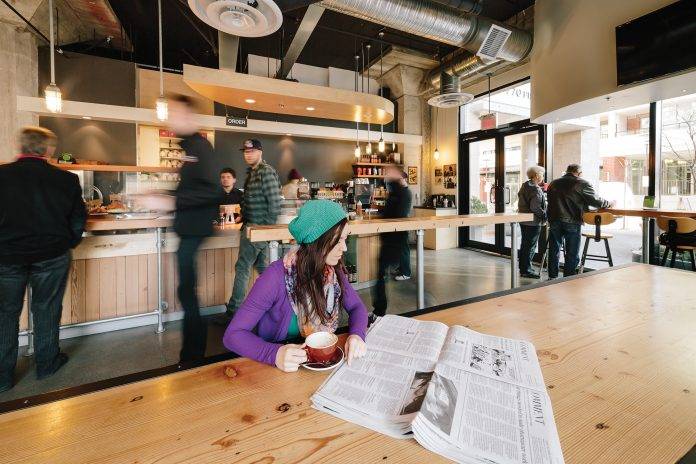 If you want to learn about coffee in Victoria,  Sam Jones, founder of 2% Jazz, is a key person to talk to. Jones has developed an encyclopedic knowledge of coffee shops in Victoria, and the business of coffee in general.
"Some stats say there are 52 coffee shops in the downtown core alone," says Jones. "That works out to one coffee shop on every block, but there are probably more. Is the Victoria market saturated with independent coffee shops? I don't think so."
According to Jones, about 90 per cent of coffee sales in North America are still per cup coffee as opposed to specialty coffees. "Coffee consumption is even starting to compete with soft drinks," he says. "Independent coffee companies are simply going to continue to eat up a bigger share of the beverage market."
THE GROWTH OF COFFEE CULTURE
Indeed, Sam Jones has been around since the beginning of the specialty coffee renaissance in Victoria two decades ago when Starbuck's, which had just opened its first shops in Victoria, was considered cutting edge.
"On trips to Seattle in the early 1990s, I was amazed by what David Schomer was doing with espresso drinks, and I wanted to serve quality coffee here in Victoria too," says Jones.
By 1996, Jones had set up his own small coffee kiosk in a parking lot beside the Times Colonist building on Douglas Street. Then, in 2003, he was offered first dibs on street-level retail space when his Douglas locale was transformed into a retirement complex.
"I was able to keep my clientele," says Jones, "all of whom had developed an appreciation for specialty coffee…"
In 2012, Jones became one of the first commercial tenants in the newly renovated Hudson building on Fisgard Street, in the same building as Victoria Public Market. 2% Jazz's newest location in the Hudson is home to a massive roaster, and Jones sells his beans commercially all over Victoria, including to other coffee shops such as PiCNiC.
"Before deciding to open a location in the Hudson I carefully observed foot traffic on Douglas," says Jones. "When The Bay department store closed, an entire stretch of Douglas Street basically died," says Jones. "Without The Bay, there was no 'anchor' to bring foot traffic this way. The Hudson and Public Market have started to attract more pedestrians, re-establishing a community in this part of downtown."
These days 2% Jazz's Hudson location is constantly filled with residents of the building, students from the many ESL schools downtown and office workers from government buildings nearby. Jones is optimistic that the northern edge of downtown Victoria will get even busier, thanks in large part to developer Townline Properties' ongoing effort to create a "Hudson District" anchored by the transformed Bay building.
"Hudson Mews is right next door to 2% Jazz here on Fisgard Street, and Townline plans to go forward with Hudson Place on the other side of the block on Herald Street," says Jones. "There's even plans to finally build where the large excavation is next to the Jack Davis Building on Caledonia."
Combined with Jawl Properties' plan for a massive commercial development at 1515 Douglas, just around the corner from 2% Jazz, Jones is confident that, with increasing density and the promise of even more pedestrian traffic, bright days are in store for the neighbourhood, with perhaps room for even more coffee shops.
AN ORIGINAL BEAN
Just a few blocks west of 2% Jazz on Fisgard Street, another independent coffee shop has experienced and contributed to the rise of coffee culture in Victoria over the past two decades.
"Coffee shops don't make nearly as much profit as you might think, even though the markup on coffee beans can be substantial," says Maureen Gardin, who operates Chinatown fixture Bean Around the World with her partner Mike Garnett. "At an average of two dollars per cup of coffee you have to have an awful lot of volume before you can pay the rent. Anyone who operates a coffee shop in Victoria has to be prepared to work long hours."
Like 2% Jazz, Bean Around the World also got its start in Victoria in 1996.
"We saw this space at the end of Fisgard Street and immediately wanted to open a coffee shop," says Gardin. "There wasn't a lot of foot traffic in this part of Victoria back then, so we had to work really hard for many years to make Bean Around the World a stable business."
The Fisgard Street location sources and roasts its own beans, and is not an official Bean Around the World franchise. To use the company's name, Mike Garnett has a "gentleman's agreement" with his childhood friend Barney McKenzie, founder of Vancouver-based Bean Around the World, which operates nearly 30 independent coffee shops as franchises around B.C.
"Mike has always been enamoured with coffee, so it's that interest that drives our business, not making loads of money," says Gardin. "Our focus has always been on serving quality coffee while creating a welcoming place that people in the community want to keep returning to."
For Gardin, this means hiring employees who have the right attitude, are friendly and give customers what they want.
"We don't have the attitude that we are going to educate our customers about how to drink coffee," says Gardin. "We just want to give you a space you want to keep coming back to. That — and roasting the best coffee possible — is our passion."
THE TRANSFORMING POWER OF COFFEE
In Fernwood, a coffee shop has helped transform an entire neighbourhood.
"Some might call it gentrification, but we see Fernwood as a neighbourhood in transition," says Lee Herrin, executive director of Fernwood NRG, the social enterprise non-profit that since 2005 has operated the Cornerstone Cafe in the heart of what has traditionally been one of Victoria's most artistic, creative, but also less polished neighbourhoods.
"Profits from the Cornerstone are reinvested into local community programs," says Herrin. The coffee shop itself was part of a project a decade ago to revitalize what had been a shambolic two-storey red brick building on Gladstone Avenue built by pioneering  Victoria construction company Parfitt Brothers in 1910.
The Cornerstone, Herrin says, has acted as a gathering space and community hub, which in turn has helped revitalize Fernwood as a destination for families seeking a walkable, livable place close to downtown Victoria.
"There are three schools within walking distance of the Cornerstone Cafe," says Herrin. "Families want to live in the neighbourhood because there are so many amenities close by."
Creating A SCENE
Ryan Taylor lives nearby on the other side of Bay Street from Fernwood, also within walking distance of his own independent coffee shop and roaster, Caffe Fantastico in Quadra Village.
Like 2% Jazz and Bean Around the World, Caffe Fantastico has been around since the start of Victoria's specialty coffee renaissance started 20 years ago.
"I became interested in quality coffee after experiencing café culture during a visit to Japan in the early 1990s," says Taylor who now operates three cafés in Victoria, including his main shop and roaster at Quadra and Kings, another location in Dockside Green, and a licensed bistro, Tre Fantastico, in the Parkside Hotel off of Humboldt.
Taylor started out by opening a small coffee kiosk on Victoria's Inner Harbour causeway in 1993.
"While we had tourists as customers, there was also quite a community of regulars made up of people living on boats in the marina as well as local office workers who all made the trek to get fine coffee," says Taylor. "This was a sign people in Victoria could become dedicated to quality coffee."
By 1997, Taylor had started roasting his own coffee, and by the following year had opened his first café on the corner of Quadra and Kings. Taylor now owns the building, which has become a community hub in Quadra Village.
"We were attracted to what would become Quadra Village because it is a diverse, densely populated neighbourhood, and everyone likes to drink coffee," Taylor says. "And it was also a matter of economics. At the time, commercial rents were cheaper here too."
Taylor says he never intended to roast his own coffee. "In early days on the causeway we experienced constant issues with quality and freshness," says Taylor. "My employees suggested  I quit complaining and start roasting myself."
Taylor operated the first independent coffee roaster in Victoria, relying, at the dawn of the Internet, on newsgroups and forums to educate himself. Like Sam Jones, Taylor says he was also influenced by David Schomer and the Seattle coffee scene, including the idea of finding and using single-origin coffees. He now travels with his family to Guatemala, Mexico, Panama and other countries to meet directly with producers and small-scale farmers.
"Single-origin coffees are not unlike high-end wines," says Taylor. "There's the same concept of 'terroir' found in wine, where slight variations in landscape can produce radically different flavours."
This increasingly sophisticated approach means coffee is for many people an affordable luxury, says Taylor.
As Victoria continues to embrace quality specialty coffee, making it a distinct part of our local culture, there is still room for more independent coffee shops, says 2% Jazz's Sam Jones.
"Making truly great coffee is an activity perfectly suited for entrepreneurs," says Jones. "For one thing, there is nothing easy about this business, so people have to be dedicated, innovative and creative to thrive. The result is a coffee culture that has blossomed in Victoria over the past two decades."
Caption: High ceilings, exposed pipes, reclaimed wood and an open-concept roaster create a warm and creative atmosphere at 2% Jazz's Hudson locale.  The café also offers a solar-powered mobile device charging station on its patio.