When Chard Development broke ground on its most recent project in downtown Victoria — the 20-storey Vivid at the Yates — developer Dave Chard had already logged countless hours on and around the lot determining how it could best fit into the surrounding community. He did this despite already knowing this part of the city better than most.
He's worked here in a range of capacities for 25 years, creating some of Victoria's better known buildings, including the 14-storey Juliet on Johnson Street, the 11-storey Sovereign condominium project on Broughton Street, and the 16-storey Yello on Yates, a purpose-built rental building.
"We try to start with a vision — what's the play?" Chard says. "Will it be low rise or high rise? Rental, condo, office or mixed use?"
"We consider the current zoning and what is permitted under the existing Official Community Plan (OCP)," he continues. "Does our vision for the site fit within the OCP? While we generally don't like to stray too far from the OCP, making a project viable often does require us to push the limits a bit."
The title real estate developer brings to mind all sorts of images — not all of them flattering. But anyone who creates livable, usable spaces in an urban area is also critical to the shape of that city. And while some developers seem cut from the pages of an Ayn Rand novel, others, like Chard, are socially conscious, aware of their impacts on land and people. As a businessman, Chard has the ability to focus wide on the overarching goals of a project, while keeping the minute details in play.
He's conservative in his approach, which he says has helped keep his projects viable year after year. With no major career mistakes to speak of, he laughs when asked what he would have done differently.
"The big thing is being able to manage through the different economic cycles. So the biggest mistake is I should have bought more properties 10 years ago but certainly couldn't afford to do so," he says. "Basically we've tried to do one project after another but haven't been in a position to do multiples. We complete one and start another. We've been relatively conservative that way."
With seven downtown-area Victoria mixed-use buildings under his belt, two under construction and one in the planning stages, Chard operates as a merchant developer, building and selling his mixed-use condo and rental projects one after another — often to repeat buyers.
Chard's community-first approach has seen his company create some 1.3 million square feet of residential and commercial space in Victoria and Vancouver. To date, Chard Development is on track to nearly double its portfolio of completed commercial and residential development by 2021 — an achievement he is proud of, but his satisfaction seems to stem from providing homes rather than returns on investment.
"A big one for us is we have mainly sold to Victorians," says Chard. "We've been able to really strengthen our brand that way and we have so many repeat buyers that I find it rather humbling."
Above and Beyond
Karina Sacca is a Victoria lawyer who bought commercial space from Chard at 834 Johnson Street in 2013. When she first toured the space, it was Chard himself who showed her around. When the building's strata council held its first few meetings, Chard was at the table.
"It felt like he had taken some pride of development, not just as an investment, and he certainly has been a presence in this building," she says.
Sacca adds that when issues arose at a neighbouring property (844 Johnson Street), which was purchased by the Province in 2016 as a supportive housing facility for a group of people — many of whom were deemed hard to house by social workers — that had been living in downtown's tent city, Chard became active in the neighbourhood's civic politics. He advocated for his building's residents at a local and provincial level.
By 2018, Chard and his team had organized and facilitated an emergency neighbourhood meeting for residents, workers and business owners that was attended by Victoria's mayor and council, plus representatives from the Vancouver Island Health Authority, BC Housing and the police, with the goal of making positive changes to the neighbourhood.
"He's a really positive voice for his purchasers and what he sees as the community," she says. "I think he wants to make sure he's helping to create a positive space, not just in the buildings but in the community those buildings are going to house."
The Best Place
Though based in Vancouver, Chard cut his building teeth in Victoria, a city he knows well from a childhood spent sailing out of the Royal Victoria Yacht Club while competing as a member of Vancouver's Hollyburn Sailing Club racing team and in Swiftsure's spring races. He continues to sail today with his wife Naomi and three adult children whenever possible and hosts an annual "boat day" summer sailing party for employees. But it was those initial experiences on the waters around Victoria that led him to explore the city. Simply put, he continues to invest in the communities here because it's a place he feels comfortable in.
"You can get to know the contractors, sub trades, city people," he says. "It's small enough that you walk down a street, you recognize someone who has worked on your project."
That personal touch has built long business relationships, and Chard's reputation for quality on his projects means contractors and tradespeople are eager to work with him.
Wayne Farey is a second-generation general manager and operations manager of Victoria's Campbell Construction, which often works with Chard on its projects.
"Where he shines is he takes things into his hands to find a solution to resolve things, and it's an approach that's very hands-on and it's very effective and it saves us time in construction," says Farey. "He'll push to get something resolved quickly, and you don't see that a lot with other developers, as things get lost in the shuffle. He's still very hands-on, and you have to commend him for it."
A Look Back, and Forward
David Chard first launched his development career in Calgary in the late 70s and early 80s, followed by a stint in the shopping centre development industry with behemoths like Marathon Realty and Burr Properties. He launched Chard Development in 1994 as a fee-for-service company that developed stores for Mountain Equipment Co-op (MEC) across Canada. He also leveraged his experience in the mall development world to land contracts to build shopping centres for The Bay as they expanded their Zellers chain.
After that, Chard saw an opening in the residential market in Victoria and broke ground on the Corazon building on Cormorant Street — the first residential building to be created in the north end of downtown in over a decade.
"In the development industry, you have to go with the flow as quite often things work in cycles," says Chard. "I thought there was an opportunity for residential, and it was actually in Victoria where we started to do all residential development. That was in 2004. Since then, we've done one project after another there."
After a decade of building in Victoria, Chard took his company's residential development skills back to the Vancouver market in 2014. The company now splits its workload between the two cities equally, and since 2013 the senior Chard has shared his workload with his son Byron, 30. A chartered accountant who gained experience south of the border while specializing in real estate files for Ernst & Young in Dallas, Texas, Byron initially had no plans to join the family business, but says he was drawn by the success of his father's business and the amount of knowledge his father has to share.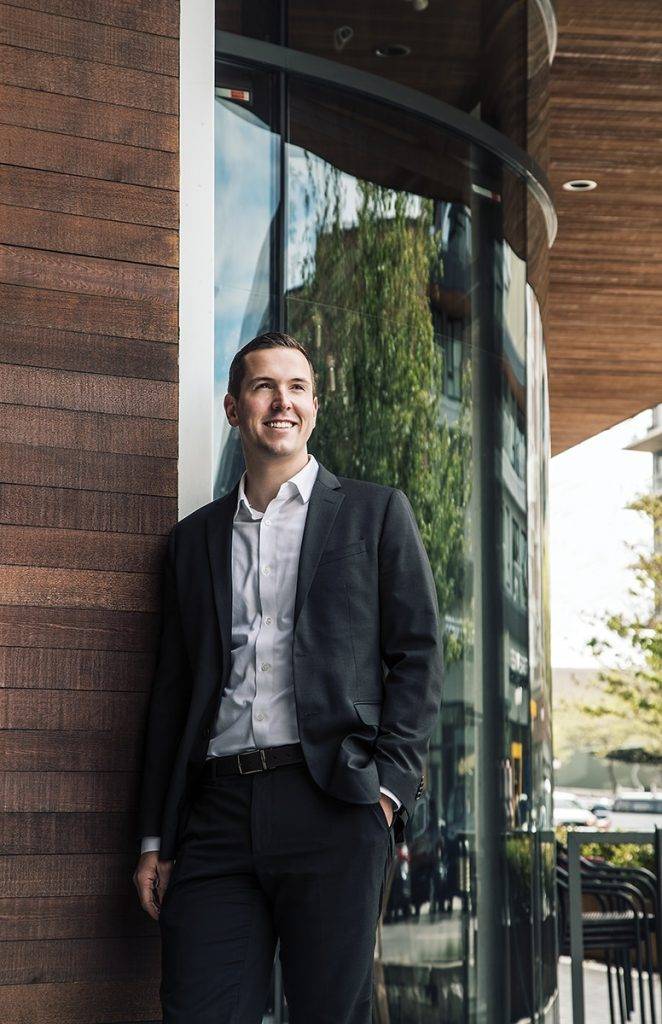 "I think the thing I've learned the most is the integrity he holds with relationships," Byron says. "That he cherishes each relationship. He treats everyone with the utmost respect in all of his relationships, and one thing I've learned is that we are in the people business."
Byron took over as Chard Development's CEO and president on May 9, with Dave moving into the role of executive director and founder in order to spend more time with his wife and grandkids. When asked if he plans to make any significant changes to Chard's business model, which typically sees the company carrying more equity than the average developer per project, Byron laughs and points out that as an accountant he's careful by nature, and that the business's success can be attributed to cautious management over the years. His philosophy? Why mess with what works?
"We're in a risky industry and we're going to take calculated risks as my father always has done, but I am looking to continue to diversify our company and make strategic partnerships, like we have with Vivid with BC Housing. We've been able to do that through a creative financing deal," he adds. The collaboration with BC Housing on the Vivid project will provide 135 homes for below appraised value for those whose income typically makes it a struggle to get into the market.
"I still need to deliver the returns required by my partners to invest money into the project," Byron says. "If these are pension funds or individual investors, I still owe them the return for the risk that they're taking. However, by doing different partnerships and doing different deals with BC Housing … we are able to reduce the amount of risk with our projects and therefore reduce the amount of profit we deliver to our partners. And they fully understand that when they invest, and they see the social conscience that we work with."
The Landscape of Success
After a quarter century in business, it's fairly easy to take the temperature of a company like Chard Development because its sterling reputation spans sectors, not just decades. The company has made a very public impression in Victoria because their focus has not been solely on developing spaces, but in shaping landscapes for people of all walks of life — seniors on fixed incomes, first-time buyers, those in the market for high-end condos — and the company will continue to deepen its roots here. Chard Development is currently in the pre-development phase at a site in Old Town and at another close to the border of Harris Green and Fernwood. They plan to continue to provide a diversity of housing and development types within the city.
As Sacca observes, Chard's contributions also go beyond an investment.
"When you walk up and down the streets you can see so many of the buildings he has built," she says. "I think that for him, it's not just a matter of building [on] the raw land and making the capital investment. I think that for him he must look around and be really happy and proud of the communities he's creating.
This article is from the June/July 2019 issue of Douglas.