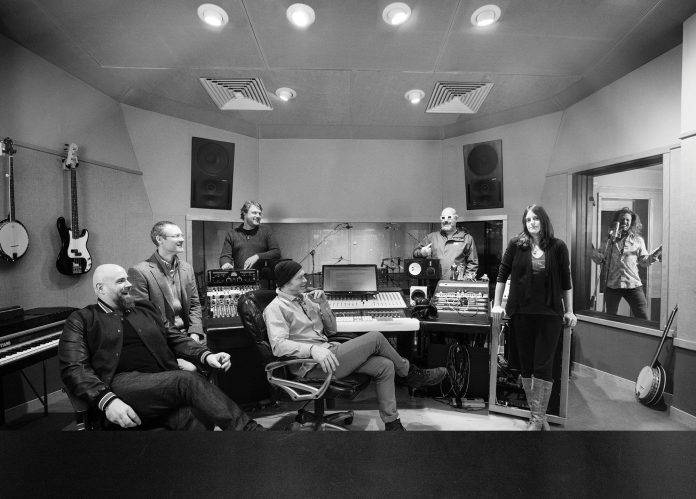 Almost under the radar, Victoria has become a hub for concert promoters, recording studios and musicians with a unique west coast sound and gigs such as the Western Music Awards. Douglas talks to the people behind our region's creative music economy.
An easy way to measure the vitality of Victoria's music industry is just to check out the concert posters on street corners and community boards: Current Swell, Kathryn Calder, Jon and Roy, Aidan Knight, Kelby MacNayr … the diversity of local talent is remarkable. But while talent tends to pull the spotlight, much of the actual business is happening behind the scenes. 
Ask around and you'll discover the heart of Victoria's music industry currently beats in the old Scotia Bank building at the corner of Douglas and Yates. Outside the building, a colourful mural flows across old marble; inside, gold records, industry awards, gig posters and framed albums adorn the walls — yet the comfy couches and casual atmosphere reflect a relaxed Victoria vibe. 
This is the home of Atomique Productions. Co-founded by Nick Blasko and Dimitri Demers back in 2000, Atomique has transformed Victoria's music scene — and, arguably, the city itself — with top-draw festivals Rifflandia, Rock the Shores and the Phillips Backyard Weekender. But Atomique also presents more than 150 other concerts annually and produces community events like the Inner Harbour Canada Day celebration, downtown's Car Free days, and the recent Spirit of 150 First Night gala. 
"Music in Victoria has definitely turned a corner," says Blasko. "It's blossomed from a scene we've had for years into a local industry that's there to support people. And it's all based on a dream — that we can have an industry here that's just as robust and important and relevant as what's going on all over the world."
Enthusiastic without being evangelistic, Blasko sees the growth of the local music industry as a combination of team effort and hard work, supported by local radio ("look at the contributions of The Zone and The Q, right back to the Rocktoria series"), promoters and managers ("they've helped build local superstars") and the artists themselves ("Victoria bands often outperform touring artists").
"Work, investment, dedication, belief . . . all this has gone into it," he says. "A lot of people made a bet on Victoria years ago — whether consciously or not — and decided this is worth working for."
Blasko's view of the local music industry clearly mirrors Atomique's signature event Rifflandia, celebrating its 10th anniversary in 2017. "Rifflandia has really been a big investment in the city, in its future," he says. "Trying to get something off the ground that has permanence, legacy and sustainability has been difficult, but worth it."
But it's not just Atomique making Victoria into a viable music hub. That same old bank building is home to Blue Heron Music, which handles a range of local talent, including Jon and Roy, Current Swell and Jesse Roper. It's also the headquarters of Amelia Artists, managers of Canadian music A-listers Tegan and Sara and Buck 65.
Looking out over one of downtown's busiest intersections, Piers Henwood's office feels like a spot where anything could happen. Henwood, Amelia's president and co-founder (along with Blasko), is the Juno- and Grammy-nominated manager of Tegan and Sara, whose LEGO Movie hit "Everything is Awesome" made it all the way to the Oscars. 
"A lot of the people I deal with day to day are either in L.A., New York or Toronto — still the three big industry capitals — so clearly, you can have a music career here," he says. "Tegan and Sara weren't looking for a big-city manager; they wanted something left of centre and they've never asked us to leave Victoria." 
Keeping the Local Music Industry Local
"Our music industry is small, but we do have one," says Henwood. "Victoria has record labels, management companies, concert promoters, artists, clubs, venues and media coverage — all of that builds an industry." 
Radio DJ Dylan Willows agrees: "We're punching way above our weight." After 13 years with The Zone @ 91.3 — longtime supporters of local music — Willows has deep roots in the scene: not only did he grow up here, but he's also the organizer of the FM station's Band of the Month and one of the new co-owners of downtown's Sugar nightclub. 
"Almost all of Victoria's events are locally produced," he says. "We don't have out-of-town promoters coming in and producing our festivals … as far as where the money is coming from and where the money is staying — and the people who are putting time and effort and energy into it — that's all local."    
Just downstairs from The Zone in The Q building on Quadra Street is Cordova Bay Records. Best known as a record label for acts like David Gogo and Acres of Lions, Cordova Bay is also a music publisher with partnerships with U.K. indie label Fierce Panda (which first signed Coldplay), Cadence Music Group (Mother Mother) and Volume (City and Colour).
"That's unique in these parts," says Cordova Bay Entertainment president Jocelyn Greenwood, former bassist for Jets Overhead. "The bigger picture is how local bands are finding a way to put Victoria on the map without having to move away. The digital reach is much easier now."
Rocking the Shores
One of the challenges facing the industry is the lack of a unified voice. Without the equivalent of something like the Vancouver Island South Film and Media Commission, no one can put a specific dollar value on the industry.
"We haven't been able to grasp the overall impact," says the City of Victoria's music and film liaison Darb Erickson. "But as far as direct cultural impact on residents and tourists, I'd say music is at the top of the list …"
Even without an industry voice, there are some key figures to consider. Back in 2015, Victoria hosted the trifecta of Rifflandia, the Western Canadian Music Awards and the BreakOut West industry conference, all in the same week. Together, they exceeded initial economic-impact expectations with $5.8 million in spending and nearly 2,500 hotel bookings. 
Music tourism is another good indicator. While Atomique alone sells 75,000 tickets annually, high-profile up-Island festivals (MusicFest, Sunfest, Tall Tree, Rock of the Woods, Atmosphere) add to the diversity of our creative economy. And Atomique has hosted visiting industry representatives at their events, welcoming organizers from the likes of the Pemberton, Squamish and Bumbershoot festivals, as well as promoters from LiveNation and Toronto's Arts & Crafts label, among others.
"We don't have an isolated island mentality anymore, because people know what's happening here," notes Greenwood. "The key people here have the creativity, diligence and ability to nurture the local industry and nurture local talent." 
The Zone's Willows agrees. "Of the 10,000 people who went to Rifflandia, how many realize it was produced by a couple of dudes who went to Vic High?"
If you Build It, Will They Come?
But any creative economy needs more than talent and enthusiasm; it also needs backstage talent. 
For 33 years, DL Sound has been providing local sound and lighting systems for clients ranging from The Butchart Gardens and Save-On Foods Memorial Centre to the Alix Goolden Hall, Rifflandia and the Douglas 10 to Watch gala. When it comes to staffing these events, "it's pretty much all locals," says DL president Doug Lyngard. "It's really a matter of keeping the qualified people busy." 
 The story at Pacific Audio Works (PAW) is slightly different. "When the company was founded [in 1993], we were carrying out far more local music productions than we currently are," says sales manager Rob Mayor. "We used to be about 70 per cent production/rentals and 30 per cent sales, and now those numbers have reversed."
While PAW's full-time rental and production staff remains constant for the roughly 200 events and productions they handle annually, their installations staff has tripled over the last decade. Clients now range from the Royal and the Belfry to UVic's Farquhar Auditorium and hotels (the Empress, Ocean Pointe), churches, rec centres and private residences.   
"We've seen a good return on our investment, especially in projector and screen video systems, temporary power installations for festival sites and LED lighting," says Mayor, noting that updating of old analogue systems in the government and education sectors has led to a "major overhaul" in the industry over the last decade.
A Very Current Swell
To better support the province's creative industries, the provincial government established Creative BC in 2013. In February 2016, Creative BC announced the BC Music Fund to channel $15 million into the music industry, with an anticipated GDP impact of $73 million. Originally planned as a $500,000 matching-fund pilot program, a further $3 million was injected into B.C.'s sound recording industry this past December.   
That translated into new recording projects for a host of local artists, including Jon and Roy, Current Swell, Jesse Roper, Carmanah and Band of Rascals — all represented by Blue Heron Music and all recorded at Vancouver's famed Warehouse Studio (owned by one of B.C.'s biggest music successes: Bryan Adams).
Blue Heron's Stephen Franke doesn't see any issue with recording in Vancouver, since the BCMF is a province-wide initiative; instead, he sees a double benefit in putting B.C. bands into B.C. studios. "The more money we can bring back into the province, the better the industry will be," he says. "The whole point of the fund is to build the sector so it's a more sustainable entity that will grow." 
B.C.'s overall music industry currently contributes over $400 million in annual revenue to the provincial economy, and 2017 is set to be a big year for growing the industry: the BC Music Fund will be making further financial investments in live music, B.C. artists, music company development, research, innovation and more. (Notable on the BCMF Advisory Committee? Atomique's Nick Blasko.)
"It's very much an economic play, not a creative play — which is fine, because we can handle the creative side," says Cordova Bay's Greenwood. "But it's not an easy business, so any government funding is very welcome."     
The Hive is Buzzing
Hive Creative Labs, one of Greater Victoria's few professional recording studios, is also benefitting from the BC Music Fund. Transplanted from the mainland to Sidney in 2013, Hive is run by Juno-winning producer and recording engineer Colin Stewart. Originally from Victoria, Stewart spent nearly 20 years in Vancouver specializing in indie acts like Dan Mangan, Yukon Blonde and The New Pornographers — the last of which features his wife, local singer-songwriter Kathryn Calder. 
Branding itself as a destination studio, Hive's rates are kept low — just $500 a day, compared to the industry average of $850 to $1,200 a day — which means bands can afford to record here, even with travel costs. "There are some bands I'll now be able to work with because of the BCMF — including two local bands."  
While Victoria is home to other smaller recording studios — Infiniti, Electric City — Stewart is quick to praise Victoria's other main professional recording facility: Joby Baker's Baker Studios, home to projects by the likes of the Cowboy Junkies, Alex Cuba, Mae Moore and The Bills. And he's happy about any initiative that boosts the music sector. 
"I really hope this isn't a one-shot deal," Stewart says of the BC Music Fund. "We haven't really been investing in the arts in B.C. and it would be nice to see that happening again."
When it comes to further integrating music into Victoria's creative economy, the City of Victoria's Darb Erickson points to the Arts and Culture Master Plan now in progress. "We're going to be talking to the music community specifically," he says. "Even if one of the outcomes of our master plan is as simple as 'develop a music strategy,' that would be enough of a push."
"The City's doing all the right things when it comes to supporting music — it's gotten a lot better in recent years," says Amelia's Henwood. "Less bureaucracy in general is always helpful." 
Everything is Awesome
The inherent cost of exporting and importing artists aside, all agree Victoria's main issue is a lack of live venues. One solution is to put more music in non-traditional venues — the top of the Yates Street parkade or Capital Iron's parking lot — to enhance downtown's vibe. "If we can make that happen more often, we'd be a highly sought-after destination," says Greenwood.
Atomique's Blasko admits it can be difficult to plan too far ahead. "The landscape is exponentially shifting with all the development downtown — a parking lot today could be a 10-storey building a year from now — so we have to think differently about where our venues are going to be and how to balance that with development," he says. "But part of the industry's strength is being nimble and reacting to things in real time."
Others point to pairings between Victoria's other booming sectors: food and beverage(think Phillips Backyard Weekender) and tech. "I know quite a few musicians at local tech companies … they're making good money, which they invest in their art," says the Hive's Stewart. 
Ultimately, the key to Victoria's music industry seems to rest in our own hands, whether that's supporting existing events, embracing new ideas or nurturing the next generation. "We're doing some great things with what we've got," says Henwood. "As you get older, you look for meaning in life in different ways, and there's great meaning in supporting people in your own backyard." 
Behind the Sound
Scottish actor David Tennant of Gracepoint and Dr. Who fame has recorded at Electric City Sound. So have the people from Amazing Race Canada. Ditto for Matt Thaler, a Grammy award-winning record producer and drummer.
But unless you're a music-industry insider, chances are you don't know about this world-class recording studio tucked away in a semi-industrial Victoria neighbourhood.
For eight years, the studio has been the brainchild of Matt Gibbs, owner/mix engineer/producer/composer whose space attracts clients from as far away as the U.K. and New Zealand, all seeking that perfect sound space for albums, film and TV work and even video games.
The 2,500-square-foot state-of-the-art facility, designed by a professional acoustics designer, is a steady draw for music, film and TV pros, some of whom like to combine their work obligations with a vacation in a top destination like Victoria.
And, says Gibbs, Electric City Sound offers the same quality as an L.A. or New York studio at a much better price point.
Behind those Gig Posters
You've seen the utitlity poles taped up with posters advertising local music gigs. Behind many of these posters is one of the city's most interesting success stories: Metropol Industries.
Started in 2003 by Steve Webb with a Monk Office copy card and a roll of packing tape, Metropol has grown from a one-man service into a printing enterprise with a staff of 20 in five locations across Greater Victoria.
As it turns out, the music industry was Metropol's gateway to growth.
"We're still involved in the music scene, but it's mostly a gateway to working with other companies," says Webb, whose client list ranges from small businesses and restaurants to Phillips Brewery.
Metropol is just one spinoff of the local creative economy.