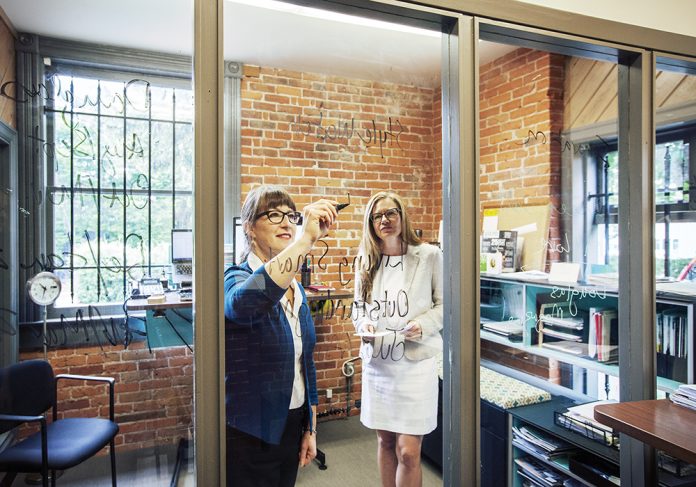 Douglas magazine hits the double digits this year. That's right, the Island's business magazine is 10! The story of Douglas is really the story of our business community, its challenges and growth. "We walk in step with the community," says co-publisher Lise Gyorkos, "so the magazine not only reflects that, but we also shine a light into the future to inspire the incredible potential of Island entrepreneurs. We've all come a long way together."
Ten years ago in Victoria, the Johnson Street Bridge was still an intact landmark, the 20-storey Astoria was the city's tallest building (and debate raged about city height restrictions), gas prices were about the same as now, and at the tail end of the year, the turbulent Pineapple Express caused power outages, ferry cancellations and flooding. And to really put it into perspective, there was no iPhone in 2006 and the world economy hadn't yet collapsed and struggled to rebuild.
Yes, there were early rumblings of economic trouble ahead, but the weather still looked quite sunny for business. Tourism had just outperformed the B.C. economy for the fourth year in a row, tech was emerging as a major sector, and a heady real-estate-development market meant cranes dotted the skyline across the region.
That same year, a new glossy business magazine launched onto the local scene. Douglas, the brainchild of two local publishing entrepreneurs (see page 39), gained immediate acceptance in a community hungry for stories about the who, what, when, where and why of local business.
Today, Douglas is in demand throughout the entire South Island, from Sidney to Nanaimo. Tech has become Greater Victoria's leading industry, and tourism still rides high, having partially peeled away Victoria's "more English than the English" veneer to showcase a city focused on its future while still celebrating its past.
Can you imagine our Island in another 10 years? Will we be driving over our new Johnson Street Bridge by then? Will there be a bridge to the Mainland? What new sector will emerge to disrupt everything? One thing is certain: Island entrepreneurs will continue to make a significant mark, not just here at home, but beyond our shores to the world at large.