Aquara by element, announced today the launch of its $88-million, 65+, harbour-side community located in downtown Victoria. It is the first 65+ community in Victoria to offer a combination of rentals, condos, independent & supportive living and care. It is the only aging-in-place residence to provide a choice to own or rent.
Aquara is being developed by Element Lifestyle Retirement (TSXV- ELM) and is part of the Bayview master plan community in the Songhees area of Victoria West. Its intergenerational aging-in-place approach is winning awards and selling out projects.
"A key part of our approach is community consultation to gather feedback from prospective residents and their families," says Vice President of Element, Candy Ho. "This allows us to sharpen and refine proposed services and activities."
At full build out, Aquara by element, will have 157 suites with 47 homes, 75 rental suites, and 35 suites providing licensed care. 122 of these homes will be Independent and Supportive Living suites.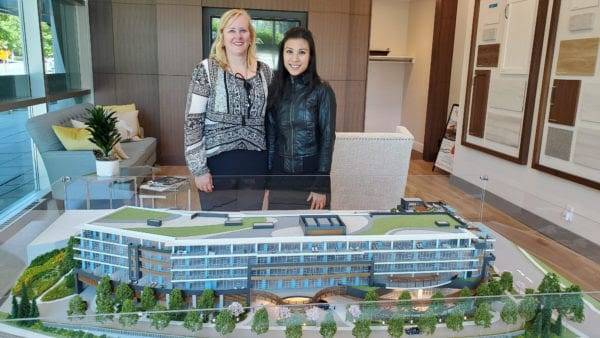 Element is booking appointments now for August 17th when suites are available to the public for purchase or rent. Element's collaborative, consultative approach was key to the success of its $106 million flagship residence, Opal, in Vancouver. Opening in fall, Opal has now sold 100% of homes and rental reservations are 100% taken with more than 95% waitlisted.
Element's innovative intergenerational aging-in-place model offers programs and activities designed for residents, their families & friends, and community. Element recognizes that society benefits as a whole when there is integration of all age groups. Stress is reduced as adults maintain a demanding career, provide for their children and help their retiring or aging parents live to their fullest.
"Everyone benefits from connection, and the intergenerational approach creates the comforts of home within a vibrant gathering place" says Ho, who has been pioneering the advancement of intergenerational living as an important part of overall wellness.
The innovative Aquara seniors' residence is the first 65+ community where you can purchase and rent homes offering independent living, assisted living and licensed care. Licensed Care is in a designated, secure area with its own tailored amenities and activities. Victoria residents can preview suite layouts at the Aquara Discovery Centre on 110 – 645 Tyee Road which is open to the public and features a full-sized show suite specifically designed with physically adaptive features accommodating aging in place.
The 153,500-square foot residence will include approximately 30,000 square feet of indoor and additional outdoor terrace, patios and rooftop garden for residents. Aquara includes a diverse mix of activities, some tailored to retirees and seniors and some designed specifically to bring together all ages. Those looking to become a part of the community feedback program can register interest at aquarabyelement.com
Element Lifestyle Retirement Inc., is the manager of development and operations of Aquara which will be completed late 2021. Element Lifestyle (Vic Harbour West) Inc. ("Vic Harbour") – a wholly-owned subsidiary of Element Lifestyle Retirement Inc. is the General Partner of Aquara Limited Partnership, the property owner. It is anticipated that the construction costs will be financed through a combination of debt and limited partnership funding.
This news release was received on August 7, 2019.