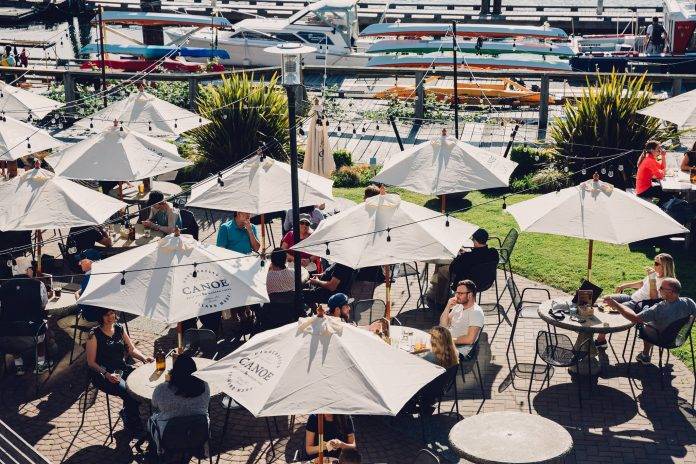 In a sense, the business lunch is a good way to maximize efficiency. You'll do business, make connections or mark a special occasion, but you'll also get out for lunch and have a shared experience with your client or employees.
These five Victoria professionals are more than a little familiar with the business lunch. They know where they like to go, whether they're looking for an informal place to get to know a new client or a quiet place to seal a business deal.
Here, they share some of their favourite spots in town.
(These responses have been edited for clarity and length.)
Rory Kulmala
"For a first-time client meeting, I like to host over a coffee at a café. I like to break the ice this way rather than with a full-on lunch, as time is precious for many. But if lunch is warranted, I choose restaurants that have a view of the water. In summer, those with patios are my preference — Glo Restaurant + Lounge and Canoe Brewpub are up there as a few of my favorites.
"Another reason I like these spots for a business lunch is because they allow my guest and I to be comfortable and talk — places with crowds and loud music don't usually work for me. But I also like to choose a place that has a bit of energy to it, with a good menu and professional staff. These spots also have some room within the layout so that you can have a private conversation and there is comfortable seating that allows you to face your client. Bar-style seating doesn't work well for more a business meeting with more than two people."
Jeff Ward
"I'd pick the Songhees Café. It's ideal for a business lunch because of the café-style seating — it's good for small groups and quiet conversation. It's also a gift shop with beautiful art work from local Indigenous artisans so it is a great way to support local Indigenous entrepreneurs while at the same time eating amazing food.
"The café is located in the beautiful Songhees Wellness Centre building, which is always impressive and visually stunning. I'd recommend ordering the salmon burger, any of the soups or the daily special. And don't forget to try a piece of fresh bannock, cooked daily."
 
Brianna Wettlaufer
"For a casual meet-and-greet, I'd pick The Drake. It's centrally located in Market Square, just a stone's throw from Stocksy's offices. This cozy spot [is decorated] with some seriously sexy gold foiled lettering — great for the designers! — and it always has a new beer to try. Here, it's easy to jump into conversation that isn't too formal.
"For a confidential business lunch, I'd pick Koto Sushi Izakaya. This is a perfect, quiet spot for sensitive business meetings where you need focus, privacy and a food everyone can generally agree with: sushi. Here, there are private booths with closing doors and it's easy to share the sushi boats, meaning less time is spent making a decision on the menu so you can quickly jump into the important conversations."
Bruce Williams and Amanda Wilson
"We like Nourish Kitchen & Cafe in James Bay for business lunches. We think it's important to choose local whenever possible, and we know the owner, Hayley. The restaurant is bright and airy and the service is friendly. Parking is plentiful and the food is healthy and delicious.
"When we hold larger meetings, we move into the upstairs café space where there's lots of seating. You feel like you're in a comfortable living room, which makes people relax. We think business is best done in a comfortable, friendly, healthy environment, and Nourish provides that. And we can't underestimate the importance of a light, bright space — it elevates our mood and inspires creative collaboration."