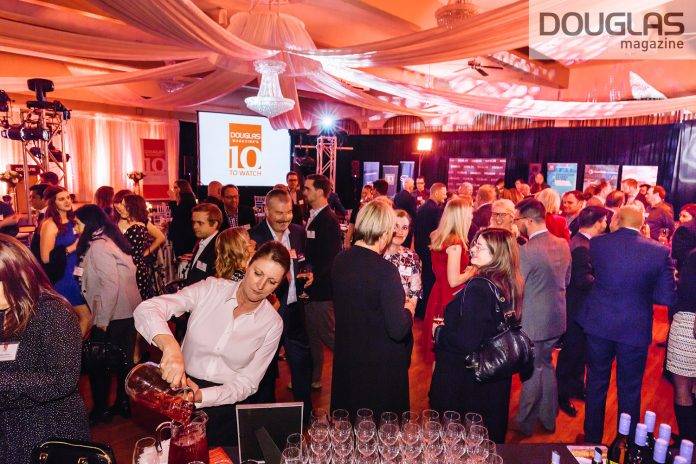 Douglas magazine is proud to announce the winners of their eighth annual 10 to Watch Awards for 2017. These awards highlight the very best of Vancouver Island's new businesses.
The winners were announced at the 8th Annual 10 to Watch Awards Ceremony at the Leonardo Da Vinci Centre in Victoria, B.C. and were selected by an independent panel of judges that included local business owners and representatives of the University of Victoria Peter Gustavson School of Business and Royal Roads University School of Business.
The 2017 10 to Watch winners are:
To read more about the 2017 winners here.
"We celebrate each of these innovative 10 to Watch winners for their entrepreneurial spirit and courage to leave the comfort zone," says Lise Gyorkos, co-owner of Page One Publishing, which produces Douglas magazine. "A 10 to Watch Award is a strong vote of confidence from the experts, and these are businesses who demonstrate sound business models, scalability, talent and great market potential."
Now in their 8th year, the 10 to Watch Awards recognize Vancouver Island's best new companies, which have been in business for three years or less. Previous winners include: LlamaZoo, DeeBees Organics, Flytographer, Indochino, Rumble Energy Drink, Elate Cosmetics and Stocksy United.
Douglas is Vancouver Island's business magazine, published by award-winning Page One Publishing. Page One also publishes YAM magazine, Victoria's lifestyle magazine.
The 10 to Watch Awards are made possible by the generous sponsorship of Title Sponsor Peninsula Co-op and supporting sponsors:
Stantec, TD Canada Trust, Chartered Professional Accountants of BC (CPA), Acacia Landscape, Maximum Express Courier, Freight & Logistics, Equitex Realty, Andrew Sheret Ltd., Graphic Office Interiors, Royal Roads University and the City of Victoria.
ABOUT THE WINNERS:
Trich Analytics
The only commercial laboratory in Canada to use laser ablation for biological tissues to answer questions regarding health, nutrition and metal exposure.
Roll.Focus. Productions
A video production company that combines a journalistic approach with simple digital marketing strategies, striking the balance between budget and value for its small-business clients.
Cultured Kombucha
The maker of kombucha — a probiotic beverage made of fermented tea — which uses organic ingredients and sells it primarily on tap and by bulk-fill, leaving a low environmental footprint.
FreshWorks Studio
A tech firm that uses a collaborative team approach to develop elegant and sophisticated mobile apps for private- and public-sector companies, on both iOS and Android platforms.
Studio Robazzo
A multi-faceted design firm that takes on everything from interior design to graphic design to websites to industrial design to retail displays and even stage sets.
Angela Cote Consulting Inc.
A franchise consultant and business-growth specialist who helps business owners convert to the franchise model, and assists established franchisors take their business to the next level.
SOHO Victoria
An annual one-day conference and networking event for small companies and home-based businesses that includes speakers, workshops, round-table discussions and one-on-one expert advisor sessions.
Miiko Skin Co
A natural skincare line that focuses on using high-quality local ingredients, delivering its products with education and keeping its environmental footprint low.
RepLab Communications
A public relations and marketing company that enhances its clients' reputations in the good times but whose grounding in crisis management can also help when issues arise.
Victoria Soda Works
Maker of handcrafted, small-batch soda pop, available in 16 different flavours sweetened with cane sugar, as well as a line of sugar-free selzers.