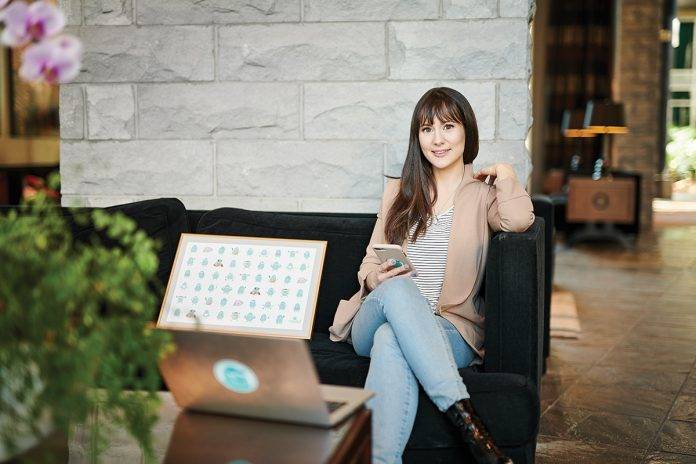 Anyone familiar with the debilitating effects of anxiety and panic attacks knows how frightening and lonely the experience can be.
To instill a sense of security, paired with a good dose of knowledge about what's happening to your body when panic and anxiety set in, Victoria's Ania Wysocka created Rootd, an app that subtly and effectively comforts those who need it, any time and anyplace.
Wysocka came up with the idea for Rootd in her last year of university when she started experiencing anxiety. As a student, she found she couldn't afford many of the resources out there to get help.
"I wanted something that offered a way to get in touch with somebody when you're feeling overwhelmed, also a panic feature, a guided breathing tool and a meditation tool all in one," she says.
She bootstrapped to create Rootd, working full time and spending off-work hours researching mental wellness, with a focus on cognitive behavioural therapy. She ran her content past psychologists and academics to create an up-to-date resource. She also designed most of the app herself.
Her efforts have paid off: Since launching last year, Rootd has been downloaded over 50,000 times in more than 100 countries through the App Store and Google Play.
"I get feedback from girls saying they went back to school because of [Rootd]," says Wysocka, "or they've gone back to work because of it, knowing they have it in their pocket and can turn to it when they need.
"Those kind of comments and that kind of feedback," she adds, "really helped me get past my fears of vulnerability and makes it seem like it's all worth it."

A Q & A with

Ania Wysocka of Rootd
What advice would you give to someone just starting out?
To make sure to check in with themselves, celebrate their wins and take breathers every now and then. Being a founder is an awesome and unique journey, but with it comes significant sacrifice. It can be hard and reward-less work (especially at first), and it's easy to feel isolated and caught up in a lot of pressure.
So be sure to give yourself a break every once in a while to note how far you've come. Mind that you don't burn out before you get to where you want to be.
What was the scariest part of starting up?
The vulnerability that comes with putting your project or name out there. In Rootd's case, users didn't (and still mostly don't know) that the app they're using is a labour of love envisioned and created by a single person with contract help. They want everything done fast, with no bugs, and for free.
This article is from the April/May 2019 issue of Douglas.