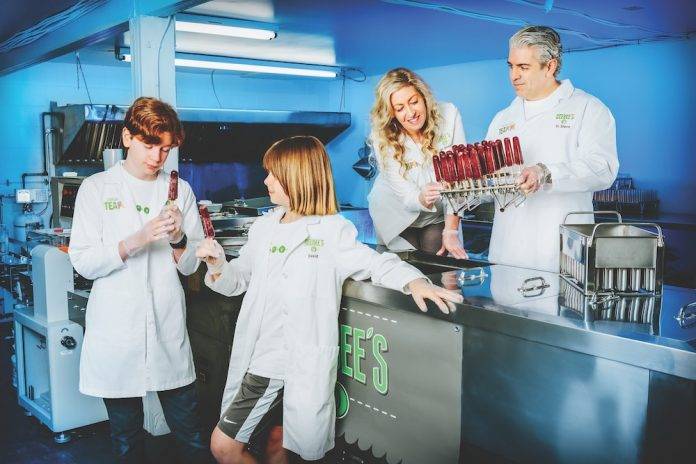 The impressive trajectory of DeeBee's SpecialTea Foods since its inception in 2012 has seen the company grow from an idea in the family kitchen into a business with distribution across North America and export inquiries from China, India, the U.K. and Mexico. 
"We wanted a product that our own son could eat," says founder Dr. Dionne Laslo-Baker. "He has a diet that excludes refined sugar, artificial colouring and flavouring, and in the dessert category, that is hard to find."
So what is the product fuelling the rapid growth of DeeBee's? It's TeaPops, an organic frozen tea novelty with no refined sugar and available in a variety of flavours.
Not content to rest on their laurels, DeeBee's has been reformulating their TeaPop flavours, even bringing on a chef to perfect the taste.
"Call us an evolving company," Laslo-Baker says. "We want to listen — we may not necessarily want to hear the negative feedback but that's what I thrive on."
Along with winning a New Exporter Award by the B.C. Ministry of International Trade, the company secured funding from the National Research Council of Canada's Industrial Research Assistance Program. The money is being used at DeeBee's Centre for Research and Innovation at their head office in Esquimalt.
"Over the next year, we'll probably be launching other products under the DeeBee's brand and we've been told some of those might be even more exciting than what we have out now."
---
Q&A with Dr. Dionne Laslo-Baker of DeeBee's
What has been your biggest challenge?
Finding balance as a working mother and the leader of a startup. Making sure my family know that they're number one but also knowing myself that there's no opportunity for failure in our business. We've invested so much time, passion, sweat and savings.
How far ahead do you let yourself look?
Right now, the goal is finding partners. We feel we need to work with strategic investors in order to grow to that next level.
What advice would you give to someone starting out?
I would say: know what you don't know and feel free to ask for advice. You can never have enough information and if you can seek it out, people are so happy and willing to give advice.
---
DeeBee's Business Profile
Type of business: Frozen treat company
Year founded: 2012
Owners/principals: Dr. Dionne Laslo-Baker and Dr. Stephen Baker
Employees: 9
How are you innovative? Through DeeBee's we can give a voice to science and teach others about the impact of the foods we eat — on ourselves and our planet.
This article is from the April/May 2015 issue of Douglas.