I never thought much about my watch until the day it died. A sturdy, utilitarian Swiss timepiece, it's been on my wrist for more than two decades, keeping me punctual for interviews and making sure I never missed a flight, long before the ubiquitous smartphone became the preferred method for checking time.
How I broke a little hole in the crystal I really don't know, but there it was, the tiny shards of crushed glass dancing across the watch face like a snow globe.
It wasn't a good day for my watch — the red second hand stopped in its tracks — but it did lead to a fortuitous meeting with a gaggle of young watchmakers and a glimpse into the amazing world of watch collectors.
The Watch Geeks
When I first stepped into Victoria's Meticulous Modern and Vintage Watch Repair, I was immediately struck by the group of youthful experts in the crowded downtown shop, all bent over the task of servicing wristwatches. They spirited my old Sigma away and a few days later had it restored with a new movement and shiny crystal, hopefully to live to tell the time for another decade or so.
They also opened my eyes to the fascinating world of watches — the beauty and history of mechanical movements, the "quartz crisis" of the 1980s that nearly eclipsed the time-honoured art of horology, and the hot new market for old-fashioned, ticking timepieces.
From the ebullient Tara Trudel and her young colleague Levi Sinclair, to shop owner and expert watchmaker Jonathan Mossop, Meticulous is ground zero for watch geeks. Not only can they quote chapter and verse on almost any watch ever made, they can fix them, even if it means hunting down or fabricating old, rare, irreplaceable parts.
With the time displayed on every electronic device we carry these days, it's surprising to learn that the old-fashioned watch repair business is booming.
I envisioned the Norman Rockwell image of a watchmaker, an aging gent surrounded by clocks and buckets of watch parts, peering through a loupe while tinkering with a tiny timepiece. That's what you would have found here for most of the last 30 years, when it was home to Edwin's Clocks and Watches and the beloved watchmaker Edwin Lee.
Mossop and Trudel both learned their skills from Lee — Trudel worked alongside him here for several years. Mossop befriended Lee and, under his tutelage, was soon restoring rare watches and selling them online, eventually becoming a skilled watchmaker himself.
When Lee died in 2016, Mossop took over and opened Meticulous in the tiny space, providing a bricks-and-mortar home for his virtual vintage watch store, styleintime.com. It's an extension of his main watchmaking studio, inside the historic Francis Jewellers, where more vintage watches are on display.
Whether it's a sleek Longines Mystery Dial Automatic, circa 1960, or a rare Movado Diver's Chronograh, Mossop buys, restores and sells watches of all kinds too.
"Vintage watches never seem to go out of style," he says, recalling the sleek 1930s tank watch that first lured him into the world of collecting. "They convey that unique sense of history and rarity — and they are fascinating little micro-machines."
Dying Art, Growing Hobby
When the battery-operated quartz movement flooded the market with cheap and reliable watches in the 1970s, it looked like the finicky, mechanical watch might finally be consigned to the dustbin of history. But it lived on, especially in the luxury brands like Rolex, Patek Philippe, Omega and Cartier, still among the world's most sought-after, collectible watches. A quartz watch is a more reliable timekeeper, but there's still a lot of love for these mechanical marvels.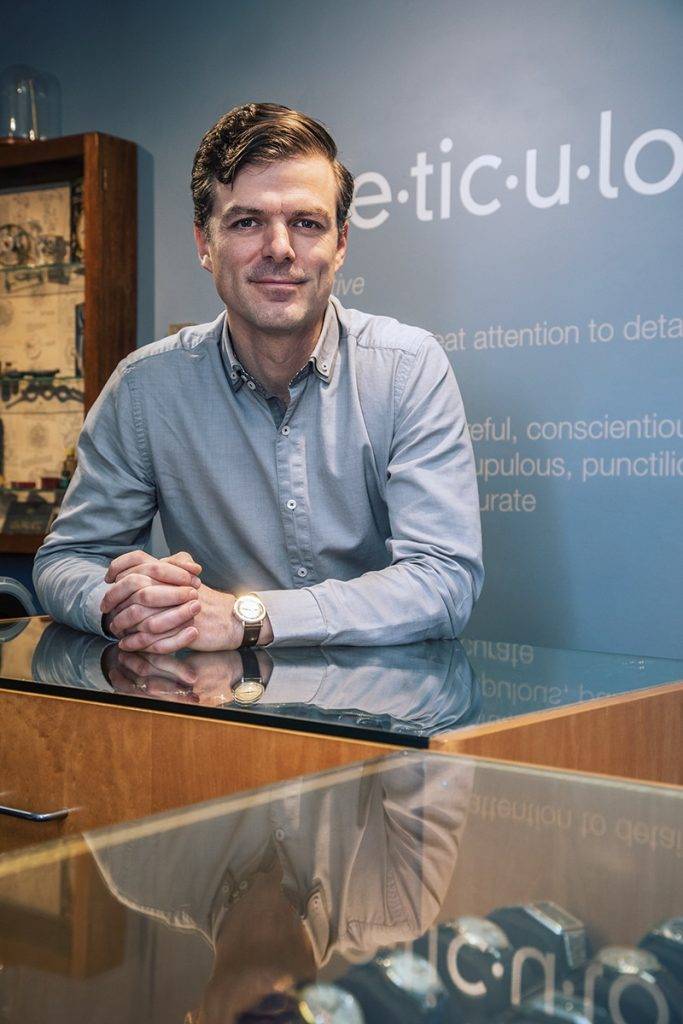 In fact, collecting watches is the new hot hobby of the rich and famous. Ellen DeGeneres and Eric Clapton are horology hounds — both collectors of iconic Rolex watches. Charlie Sheen has a multi-million-dollar collection, including a rare Patek Philippe Perpetual Calendar worth a cool $700,000. And the big news this year was the record sale of a vintage watch at auction for $17.8 million — the famous Rolex Cosmograph Daytona that Joanne Woodward gave her movie star husband Paul Newman back in 1968.
Thanks to modern computer connections, it's easy to browse the world for rare, unique and luxury timepieces. You'll find brand ambassadors, bloggers, reviewers and retailers to help you hone your hobby. There are also watch collector clubs like the cultish RedBar Group, a New York City-based watch collectors' club with chapters around the world.
Here in the capital, there's the Victoria Watch Collective, a group of local collectors who meet several times a year to buy, sell and share their passion for high-end horology.
I find the Victoria Watch Collective at one of their regular meetings at a downtown hotel. As the sun sets over the inner harbour, a group of mostly men gather for an informal "show-and-tell," arranging their coveted collections on tables around the room, sipping cocktails and talking timepieces.
Bill Naughton, Victoria's former deputy police chief, displays 10 of his favourite wristwatches in a glass-topped wooden display case and tells me about travelling around the world in search of his next find. "I was in northern Italy this summer, in Verona, and there were eight vintage watch dealers on the main drag alone," says Naughton. "The hunt is always motivating."
Naughton says he's found vintage watches in antique stores and thrift shops, even at garage sales. A watch issued to the French Navy in the 1970s was pulled out of a bin of random watches at a French antique fare and acquired for just 20 Euros.
"For me, I'm driven by the esthetics, but also the history," he says. "Imagine if that watch could talk."
Whether it's his favourite Omega Speedmaster Moonwatch — the iconic chronograph that Buzz Aldrin wore while walking on the moon — or his collection of dive watches, Naughton says, "I like watches that work for a living."
Tonight he's showing off his collection of stylish Halios dive watches, a boutique brand, made in Vancouver, with a cult following among collectors. 
What Makes a Watch Collectible?
Most collectors admit they have a soft spot for a particular brand or style of watch — perhaps a watch first worn by a grandfather or a timepiece associated with famous historical events, films or celebrities. James Bond always has an Omega on his wrist — an elegant Seamaster with blue dial in Casino Royale, a classic black Seamaster Planet Ocean in Skyfall. Martin Sheen made the Seiko 6105 famous when he wore it in Apocalypse Now.
Collectors speak about their watches like living things, and when you see the balance wheel moving rhythmically inside, it's like peering into a mechanical beating heart. But whether you've got the cash for a $50,000 Patek Philippe or just $500 for basic vintage mechanical, there's a place to start a collection.
Rick Anthony, another former police officer, collects all kinds of military objects and especially loves watches issued to army or navy personnel. "I like the look of dive watches to wear, but I also look for military watches, which were often chronograph watches," says Anthony. "Rolex made watches for the British army, Hamilton or Elgin for the U.S. army. I have Gruen watches from the 1960s, Benrus from the 1940s — these are all military style."
Anthony found one of his favourite watches in the breast pocket of a Vietnam-era army uniform he bought in a Las Vegas thrift store. But many of the 25 to 30 watches in his collection are new models — like his Seiko and Glycine dive watches. Tonight he sports a modern, Canadian-made Marathon military-spec watch issued to Allied troops in Iraq and Afghanistan.
"It's water, sand, impact-proof and it uses tritium on the face. It lights up in a pitch-black room," he says. "There's also a slide rule around it — I have no idea how it works, but I love the look."
For Love and Investment
Watch collecting can be expensive. You need to spend money to make money, but a smart collection can pay healthy dividends down the road.
"Buying a vintage Rolex can be an extremely good investment," says Mossop. "You can buy a watch, wear it, enjoy it and then sell it and still make money."
Depending on which watch you buy, whether new or used, the value can double or triple in a matter of years. But don't count on it. Though many luxury watches hold their value, only about 20 per cent represent a profitable investment, according to timerating.com, which tracks watch values for dozens of models against inflation and the stock market.
The Rolex Submariner, for example, increased in value by nearly 300 per cent between 1994 and 2016, above average in their portfolio of 260 well-known watches.
It's easy to browse the latest releases from the world's top watchmakers online, though it's important to know what you're buying and from whom. If the price looks too good to be true, it probably is because after textiles, watches are the most routinely counterfeited product in the world. And with advances in manufacturing and 3D printing, even experts concede that today's best fakes are nearly impossible to spot. Most collectors get burned by a fake at least once — Rolex, Omega and Breitling famously being knocked off — while some even collect "replica" watches and "faux-lexes". With so much money to be made, there are also "Frankenwatches," made with real parts but worth far less than the originals.
These days, most sellers know what their watch is worth, but Mossop says he still has those Antiques Roadshow moments. "The days of finding something really special at a thrift shop are rare, but they still happen," he says. "A guy brought in a broken watch that he bought for five bucks and I paid him $9,000."
Many people inherit valuable watches too, he says. It can pay to bring in that old watch that's gathering dust in your dresser drawer. "Especially the sport models, tool watches, diving or flight watches," Mossop says. "A good Rolex can be worth more than you think."
It's always safest to ask a professional like Mossop to value and authenticate a watch, and there are many virtual vintage watch stores, including analogshift.com, hodinkee.com and hqmilton.com. Chrono24.com lists 300,000 watches from 10,000 dealers around the world.
Luxury timepieces come with high price tags, whether it's the latest Omega Speedmaster ($5,000 US), a cool Jaeger LeCoultre Polaris Memovox ($12,600 US), or a rare Christophe Claret Maestro Mamba with sculpted serpent coiled through the mechanical movement ($96,000).
Time Travel
I've been sucked down the rabbit hole of the watch world, learning the difference between mineral and (infinitely better) sapphire crystals and the magic of miniature springs and gears moving behind exhibition cases. I've also developed a bit of a hodinkee.com habit and can no longer pass a thrift store without a quick look through boxes of old watches, just in case someone has discarded a mechanical gem.
The classic Norman Rockwell painting, with a curious young boy and an old-school watchmaker, captures all of the wonder of watches and their tiny, ticking hearts, the physical evidence that, as the world turns, time marches on.
This article is from the February/March 2019 issue of Douglas.