Celebrating 75 years of quality, time-honoured building, Tidman Construction Ltd has three-quarters of a century of history, memories and building homes throughout Greater Victoria. 
It started when Roy Tidman moved with his family to Vancouver Island in 1948. He bought property in Brentwood Bay and built the first Tidman home for his family there.
Roy's sons, John and Ron, took after their father. At the age of 16, Ron joined Roy as an apprentice in 1958. Ron became a successful builder, constructing Keating Industrial Park and the Landmark Building in Sidney. Known for being a man of his word, he started many of his projects with a simple handshake. 
John, whose interest was in design, also apprenticed with Roy. He was working in the engineering department of BC Tel when Ron asked him to be a partner in Tidman Construction. 
The two sons officially joined forces in the early 1980s, first working on commercial and industrial buildings, before moving on to independent seniors' residences. They designed and built The Peninsula and Beechwood Retirement Communities, the Munro Centre, the Gorge Pointe Condominiums and the Norgarden.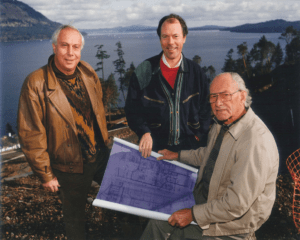 John, who is now enjoying retirement, says he could not have asked for a better partner than Ron. In over 30 years of working together, he can't remember any serious arguments, saying that they would often hash out projects over lunch, discussing pros and cons and easily reaching mutual agreement. "Ron was the rainmaker…very engaging, with an outgoing personality," John says, while he was the "plodding business operations kind of guy." He has fond memories of their years of working together and is proud that his son Andrew has now taken the helm.
The third generation of Tidman Construction Ltd, Andrew joined the team in 1993. He recalls being on site at the age of 11, helping with odd jobs like sweeping and cleaning up. John took him to supplier and construction site visits, and Andrew can even remember riding to work with his grandfather when he was quite young. After high school, he studied architecture, got his real estate licence and took Urban Land Economics at UBC. He says, "Building and design are in my blood. It's a passion that I thoroughly enjoy."
When Andrew officially started in the early 1990s, he was a customer service representative at Arbutus Ridge, where the company built the golf course, community village and almost 700 custom homes. He became the project manager there and later became general manager of all operations for Tidman Construction Ltd, as John and Ron moved into retirement.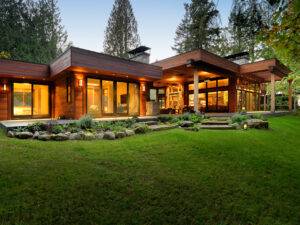 Among many prestigious industry awards, John and Andrew are both proud recipients of the Homebuilders Association's Lifetime Achievement Award. Andrew says their customer base reflects their family and company values. They have built multi-generational homes and have lifelong relationships with many of their clients. 
From their first home in Brentwood Bay to industrial and commercial buildings to custom luxury homes, Tidman Construction Ltd is synonymous with integrity and quality workmanship. Known for both timeless quality and sleek modern designs, the company is also registered with BC Hydro Power Smart and BuiltGreen builders, working toward more sustainability and energy conservation in construction. 
At 75 years young, Tidman Construction Ltd is the region's oldest family-owned custom home builder. "Roy's passion and forte for creating high-quality buildings has continued," Andrew says. It's an honoured legacy the family is proud to carry on.
Edit