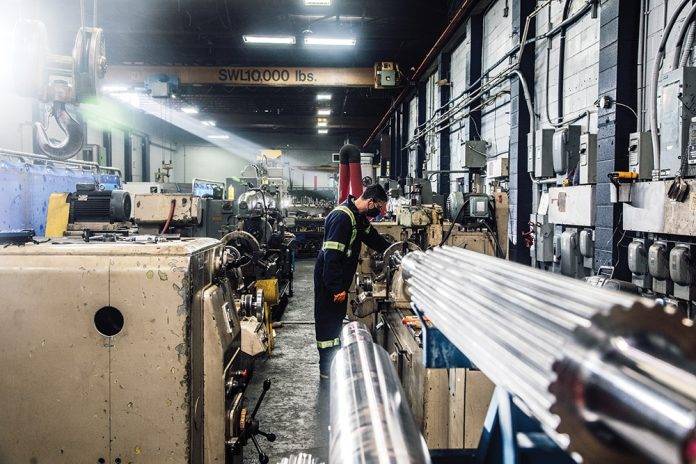 For Duncan-based Promac group, the higher cost of doing business on an island can put it at a competitive disadvantage. One of the company's three lines of business, Promac Equipment, manufactures skid-steer and excavator attachments, largely for export. "Our cost of living — which is encapsulated in the cost of housing, food, taxes, everything that goes with it — is much, much higher here than in the Midwest U.S., which we compete with," says Promac president Gary Powers.
In his frequent travels south of the border, Powers often asks about the cost of buying a house. "It always amazes me," says Powers, who bought the company four years ago. "On Vancouver Island, now you can't get much for $600,000 or $700,000. The equivalent house in East Texas is $200,000."
The good news is that Vancouver Island's costs for buying houses — which averaged $515,000 in October 2020, according to the Canadian Real Estate Association — are half that of Vancouver's. Powers actually exploits that as a recruitment tool.
"There's both challenges and advantages to being on the Island, believe it or not, says Powers whose company has about about 55 employees, around 40 of them unionized. Paying union wages also puts Promac at a disadvantage with right-to-work states in the Deep South. One advantage, though, is Promac's three business units gives it a broad revenue base, helping it weather the pandemic, although annual sales have slumped to around $12.5 million from about $15 million.
The Real Costs
Vancouver Island businesses also face additional cost challenges by being in B.C., such as the new employer health tax. By being in Canada, businesses end up paying among the highest cell phone bills on Earth. But, as Powers says, "If you'd asked me what makes a big difference, I would say phone plans would be pretty low on my priority list."
It also bears noting that the pandemic represents a more imminent threat than the underlying business costs.
"Obviously, costs are still critical," says Jeff Bray, executive director of the Downtown Victoria Business Association. "The costs that impact margins are not what businesses are focused on. It's how do I keep my staff working? How do I keep my doors open? How do I pay my rent? How do I inventory up?"
John Wilson — president and chief executive officer of The Wilson's Group of Companies, which has B.C.'s second largest private fleet of passenger buses — says business has dropped off 95 per cent. That's largely a result of pandemic-related travel restrictions crushing tourism.
At the best of times, the high price of land poses a burden for his company, which has six properties — four rentals as well as locations it owns in lower-priced Nanaimo and Campbell River. Pre-pandemic, a big challenge for Wilson was recruiting professional drivers. In good times, Wilson's has 270 employees and 200 buses.
"We may not need as many drivers in 2021," says Wilson, who chairs the Greater Victoria Chamber of Commerce. But as tourism recovers and the driver shortage continues, the company might have to cut service.
"Buses [here] can be off the road almost twice as long as buses are off the road on the mainland just because of the logistics of getting parts over here," Wilson says.
Promac has a similar dilemma — the delay in shipping replacement parts to its customers, particularly in the U.S. That's why Promac has a parts warehouse in Blaine, Washington.
On-demand culture leaves people expecting immediate delivery. "In Western society, these days everybody wants it today," Powers says.
Pain of Ferry Travel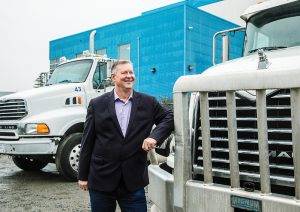 For Trish Tacoma, owner of Smoking Lily, the biggest problem with being on the Island is that fabric representatives have stopped visiting. Fabric is a big input for a company that makes handcrafted clothing and accessories.
"So I have to go to Vancouver and it's a pain in the butt," Tacoma says.
Other than that, Tacoma doesn't regard the Island as an overly pricey place to do business. "But I've never run a business anywhere but here," Tacoma says. "So I can't really compare."
Kelly Hawes, founder and CEO of ColdStar Solutions, estimates that his company spends about $3 million a year on ferry and barge services. On the plus side, that discourages competition. Like others, he cites land prices and a small labour pool as among the challenges he faces. Hawes also calls out B.C.'s carbon tax as "a money grab" that should be eliminated for the commercial industry.
"Fuel is a large expense, and if anyone is motivated to reduce this cost, it is us," says Hawes, who founded the company with wife Jennifer in 1999.
Workers' compensation, Insurance Corporation of B.C. rates and other insurance premiums are also "extremely high." And, as a wholesaler for independent grocers on the Island, Hawes worries about the likes of Sobeys and Walmart displacing smaller grocers.
Nevertheless, Hawes says, "Simply put, this is our home, and I will not live anywhere else."
Unpredictable Food Prices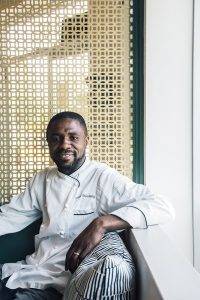 For Castro Boateng, who with wife Charlotte owns the House of Boateng Café in Langford, the overarching non-pandemic concern is food costs.
"That's very unpredictable," Boateng says. "It's always changing."
Food costs are higher in Victoria than, say, Calgary where he used to live. "You're not getting the buying power as other places," Boateng says. "We have a smaller market."
Boateng moved to the Island about 14 years ago to work as a chef at the Aerie Resort (now the Villa Eyrie Resort). He soon fell in love with the Island. "So we decided to literally just create a job for myself," he says.
He subsequently built up a catering business and the café. Catering has suffered the most because of cancellations of weddings and other events. In the summer, he normally employs up to 12 full-time workers. But that's dropped to about six full-timers and a few part-timers.
Nevertheless, over the years, the Boatengs have lured 40 workers to the Island. "And it's always to sell them the beauty of the island," he says.
Regulatory and Tax Changes
Pip White, managing partner in green energy at the startup Cascadia Bioenergy, chaired the 2020 economic report committee of the Vancouver Island Economic Alliance. The report doesn't examine business costs per se but takes a higher-level view. For instance, as the economy reopened following shut-downs earlier in the pandemic, "record-low interest rates and pent- up demand caused a flood of buyers in the housing market, putting modest pressure on prices on Vancouver Island," the report says. The report also anticipates that factors like lower interest rates and shifting to remote work "may lead to a continued migration from the Lower Mainland to Vancouver Island communities."
White cautions that a fundamental challenge for businesses is how government taxation and regulatory environments can quickly change.
"So when I talk about that regulatory environment, a setback for us is when Premier Horgan announced that he was going to remove the restriction on importing electrical power from the United States — because part of the reason that the previous government had put that in place was to try and develop the renewable energy industry in B.C.," White says.
That's a similar beef businesses have with B.C.'s new employer health tax, which aims to recoup revenue from the cancellation of Medical Services Plan premiums. Smaller businesses like the House of Boateng and Smoking Lily don't have to pay the tax. But as the DVBA's Jeff Bray points out, it only takes a staff of about 10 people each earning $50,000 a year to reach the tax's $500,000 payroll threshold.
However, a survey the DVBA conducted of its members in 2018 found that concerns over parking far outweighed concerns like business property taxation. Bray says property tax is an issue that's usually factored in with other costs, like rent and utilities. Another worry is a trend, prevalent in Vancouver but starting to edge its way to Victoria, of assessing properties on their potential commercial use as opposed to their existing use.
Property Taxes favor Residential
John Treleaven, who chairs Grumpy Taxpayer$ of Greater Victoria, notes that municipalities have business tax rates that are multiples of the residential rates. The ratio in North Saanich was 5.8 times higher in 2019, according to a municipal staff report. North Saanich politicians have boasted for years that they have the region's lowest residential property tax rates, Treleaven says. "That's because they get the highest multiples for commercial and industrial land."
His group's other concerns include interprovincial trade barriers, the health tax (which he says should have just been added to the provincial income tax) and the duplication of services — such as multiple fire chiefs — among the capital region's 13 municipalities.
"The more efficiently we can operate municipal services and government services, and the whole infrastructure on the Island, the better off we will be," says Treleaven, who spent 32 years in Canada's foreign service and ran the Saskatchewan Trade and Export Partnership for five years before retiring to Sidney in 2000.
More North-South Commerce
Bruce Williams, CEO of the Greater Victoria Chamber of Commerce, says business owners are wondering what municipalities will have to do to recoup their revenues in the wake of the pandemic.
"I think we're going to have to get into some pretty creative times here, where all three levels of government need to cooperate on this," Williams says. "And they need to have a very strong engagement with business through organizations like the Chamber."
On the plus side, Greater Victoria has strong pillars, like the Canadian Forces Base Esquimalt and the provincial government "that are going to see us through COVID-19 and beyond," Williams says.
A former broadcaster, Williams came to the Island in 2001 to work for a new TV station, now owned by CTV. Since then, he's lived all over the Island. "Both the mid Island and the south Island gravitate toward Vancouver," Williams says. "That always frustrated me that there was not more north-south commerce on the Island."
Promac's Gary Powers moved to the Island only six years ago. For a decade, he lived in Calgary, where he built an electronics recycling business that later relocated to Toronto. He recalls a colleague in Edmonton, who always raved about returning to Vancouver Island one day. Oddly enough, the colleague remains in Edmonton while Powers has found a great place to do business on this coveted isle.
"There's a reason why we're all here," Powers says. "We're all fighting to be competitive because we all love to live here."
Continue Reading:
The Wilson's Group – survival, tragedy, community and optimism