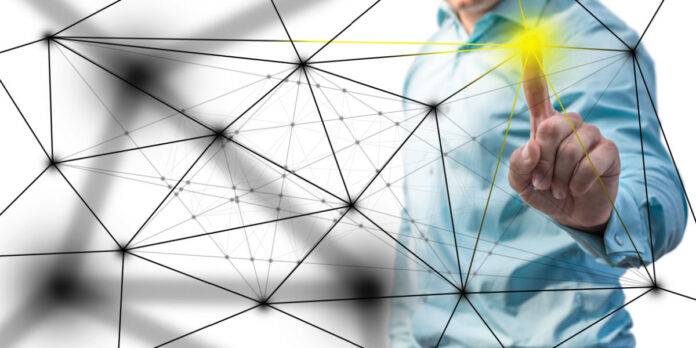 Dallas Gislason explores why building an innovation ecosystem is vital to Greater Vicoria's future — and the role your business can play.
The word innovation —from the Latin word innovare, meaning "to change, to renew" — seems to be popping up everywhere in Greater Victoria these days.
It's in the name of VIATEC (Victoria Innovation, Advanced Technology and Entrepreneurship Council), known for its Fort Tectoria building, legendary awards night, and scaleup and accelerator programs that help build "the most cohesive tech community in the world."
At UVic, the Coast Capital Innovation Centre champions all types of early-stage student and faculty-led ventures. Down the road in Saanich, you'll find UVic's BioInnovation Hub, supporting life sciences entrepreneurs. You'll also be called to "accelerate innovation" at UVic KWENCH, the downtown extension of the Coast Capital Innovation Centre.
At Camosun College, you'll find Camosun Innovates, home to the Technology Access Centre. Business clients can procure specialized machines and design/scanning services at this multidisciplinary workshop. They also help students and faculty (and even other institutions) test and refine ideas and turn them into reality through applied research. 
The City of Victoria's Victoria 3.0 plan has a whole section about establishing Rock Bay as an Arts and Innovation District (planning is currently underway). 
Finally, you'll find an entire pillar dedicated to "Invest in Innovation Ecosystems" in the Strategic Plan of my organization, the South Island Prosperity Partnership, Greater Victoria's economic development agency.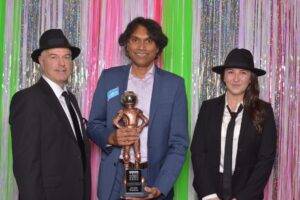 With all these local references to innovation, it must be important. But why? 
Innovation isn't just trendy ideas — it's fundamental to the future of our regional economy.
According to Dan Breznitz, author of Innovation in Real Places, innovation isn't just an invention of a new gadget but the "complete process" of taking new ideas and "devising new or improved products and services — from all stages of vision, design, development, production, to sale and after-sale."
This implies two things: 
The need for innovative problem solving.

We know most problems faced by our communities are complex. No one invention will solve them. Complex problems require innovative approaches that piece together many parts of the solution into an effective way to address them–new processes, new technologies or novel applications of old technologies combined into new operational models that bring efficiencies or revenues, and many others.

The need to move outside our siloes and work collaboratively.

Innovation rarely happens in isolation. Think about any entity trying to solve a problem: they might use software invented in Silicon Valley, new composite materials invented in Seattle, a piece of new hardware from Taiwan or a new quality standard used across the EU. Then they will apply their own process, technology and engineered components as part of the final output. 
Luckily for Greater Victoria, we have many competencies and skills that can be part of these value chains. For example, did you know one of the world's leading train logistics companies is based in Central Saanich? Quester Tangent's products are incorporated into passenger rail systems worldwide by companies like Bombardier and Kawasaki. Or that Saanich-based innovators StarFish Medical, now Canada's largest MedTech company, led a consortium of companies across the country that brought new ventilators to the market in just six months (compared to the normal timeline of 10 years!).
If we know that innovation is required to prepare us for an uncertain future, it's good to know that our region can be pretty innovative. We can create a better future if we're willing to collaborate and apply our ingenuity.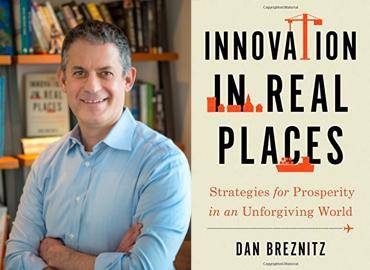 Why is innovation essential to our region's future?
We have some tough issues to solve as Greater Victoria moves deeper into the 21st century. Here's why innovation is needed:
It makes us more resilient.
If the pandemic didn't give us a call to action for why our economy needs to be resilient, then perhaps a big earthquake will. Other external forces, such as recessions, trade wars or even our region's aging population, demand that we invest in innovation across all facets of society. 
For example, here are two keys to increased resiliency in the economy: 
Reducing our dependence on outside resources

for food, energy and household goods. While we'll never produce iPhones on the Island, we can keep more wealth in the local economy by bringing back local production capacity.

Increasing local ownership within the economy.

More locally-owned businesses means more money remains in circulation right where we live, and equity that grows over time gets retained and re-invested locally. 
There are other aspects of economic resiliency (some of which I explore here), but these two are solid. Making our region more resilient demands innovative solutions across many sectors, processes and even approaches to governance.
It helps make this a more equitable region
There's even a role for innovation in addressing social issues like homelessness and food security. Governments around the world have been promoting inclusive innovation, or social innovation, to tackle tough problems. (Here's the Government of Canada report on the issue). 
In our region, what are some innovative solutions that could help us prepare to navigate a demographic shift, welcome more immigrant healthcare workers, build more housing, end the opioid crisis — and the list goes on and on? Collaborative, innovative solutions that scale are the answer. 
It boosts our sustainability
In a society (and economy) addicted to cheap energy, the convenience of personal vehicles and mass-produced household goods, something eventually has to give. Climate change and ecological challenges demand that we do things differently. 
Innovation is vital, not only to develop new technologies that transition big industries away from carbon intensity but taking on the problems from a completely fresh angle. This is another reason Dr. Breznitz's definition of innovation involves more than just invention but includes the adoption and scaling of new ways of doing things, from ideation to collective impact en masse.  
So, how do we nurture the local innovation ecosystem?
As I promised in the title of this column, I'd like to bring this home to you and your business and where you might fit within the ecosystem. 
Since innovation does not happen in a vacuum (unless you're James Dyson!), it requires a supportive ecosystem within which various interconnected entities play a role. 
Like nature's ecosystems, an Innovation Ecosystem is made up of diverse types of actors, including institutions, regulators, NGOs, large companies, financial partners, and of course, the innovators and entrepreneurs themselves. 
In an Innovation Ecosystem, each of these actors engages in spontaneous, informal exchanges but also organized interactions as they move toward outcomes such as the improvement or launch of products or services. They are independent but highly reliant on each other to create and receive value within the ecosystem. (Venture capitalists provide funds to grow companies but require ROI. Governments give grants to incubators in hopes of future job creation and tax revenues. And on it goes).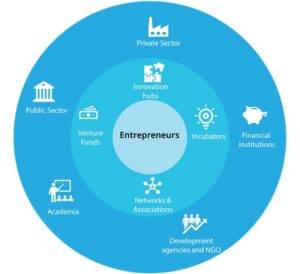 As the above image implies, just as it takes a village to raise a child, so does it take a village to produce innovation. How that ecosystem functions plays a role in the quality and quantity of innovation produced, as well as the types of problems being solved and who gets to solve them (closed systems vs. open, collaborative, equitable systems).
How do we grow and strengthen our Innovation Ecosystem?
We know that creating a better future for our region–one that is resilient, equitable and sustainable–demands that we do things differently. 
Here are three actions you can take:
Knock down silos.

Next time you're working on a problem in your business, organization or government, why not partner with a supplier, a like-minded organization, or a neighbouring government? At SIPP, we get calls from all over the world about collaborative governance and how these structures work; however, collaboration is hard. It's easier to work alone, but I would argue, less effective.

Embrace Design Thinking.

Take a major problem you're grappling with and bring all the stakeholders into one room — from customers to suppliers, regulators and financiers  — and have them look at their specific part of the problem. We did this recently with BC Ferries around their need to decarbonize their fleet. Among other things, they discovered an entirely new approach to financing as a result of the process.

Tap into unlikely sources.

Take your problem to one of the ecosystem partners I've listed in the introduction and see what their clients are working on. Ever wondered why children seem to be more creative than adults? It's because they are unencumbered by previous experiences and accumulated knowledge about "the way things are" that can get in the way of innovation. Tapping into a student team at Camosun or an emerging startup at UVic could reveal a solution you hadn't even considered.  
I've outlined the role of a supportive innovation ecosystem in making all this happen. Now it's time to invent this path to the future together, or at the very least, support those who will through a collaborative ecosystem approach.
Dallas Gislason is the Executive Director of Community Economies at South Island Prosperity Partnership (SIPP), the economic development alliance for Greater Victoria he helped found in 2016. Dallas has applied his passion for building resilient and inclusive economies through projects and boards in various parts of Canada, the U.S. and abroad. He's lived on Vancouver Island since 2010.