Beer and pizza — if there were ever a marriage made in heaven, this is it. It's late afternoon and mud-splattered mountain bikers are rolling up to Cumberland Brewing Company for a post-ride pint and food. It's Cumberland lifestyle at its best, and like most entrepreneurs in this bustling Vancouver Island community, it was lifestyle, not work, that drew the brewery's co-owner Darren Adam here.
In 2014, while living on Royston Road near Cumberland, Adam was commuting in his private Cessna to and from jobs wrenching on airplanes. Bumpy flights across the Strait of Georgia were getting tiresome, and he was ready for a change.
"I sort of threw it out there that I was looking for something different," recalls Adam, who is originally from Calgary.
Soon after he met Mike Tymchuk, another entrepreneur from Calgary who years earlier had founded Wild Rose Brewery in his home city before moving to Vancouver Island. Tymchuk and wife Caroline had opened Riders Pizza on Dunsmuir Avenue, Cumberland's historic main street, and were incubating plans for a local brewery. When a suitable space became available next to Riders Pizza, the Tymchucks formed a partnership with Adam, who had zero brewery experience.  Mike and Caroline became brewmaster and balancer of the books respectively, and Adam became beer salesman and front-end guy.
They started swinging hammers in August 2014, and by December were serving their first pints. Instinct told them that the village was ready for a convivial brew pub without walls covered in television screens. Three months in, they were slammed with work and needed more room, so they bootstrapped again to purchase a former Chinese restaurant across the street. They tore it apart to make way for a new pizzeria. Now, between Cumberland Brewing, Riders Pizza and a small market garden in a vacant lot next to the pizzeria, they employ some 70 full- and part-time staff.
Uniquely Cumberland
Two decades ago, you could barely give away a Cumberland fixer-upper. Since the closing of the mines in 1966, the town — once home to one of B.C.'s biggest mining operations — had steadily seen its population drop and its charm fade. Comox Valley real estate agents were said to have sneered at the village, and they often refused to list its properties.
But the town has made a remarkable comeback. Today, Cumberland heritage homes fetch half a million or more and are as coveted as Courtenay's tony Crown Isle, a golf-centred development where the lawns are manicured and the fire hydrants are painted gold.
Indeed, Vancouverites and other real-estate refugees are cashing out and arriving with pockets full of equity and aspirations of small-town living made ultra-vibrant by the town's love of mountain biking, music, art and enough civic pride to fuel a city four times its size.
Between 2011 and 2016, the village welcomed 1,300 new residents, putting the population at just under 4,000. If current trends continue, its population could grow to 8,500 by 2030. And the population makeup has changed too. In 2006, less than 50 per cent of residents had a post-secondary education, and fewer than 200 earned more than $50,000 in after-tax income. Today, roughly 70 per cent have a university degree or college diploma, and more than 300 are pulling in $50,000 or more.
And suddenly Cumberland, like many Island towns, has an affordability problem. Adam admits Cumberland's increasing popularity is good for business, but he recognizes the downsides of its success."Making money and creating jobs is great," he says. "But it's tough. Gentrification definitely doesn't hurt our business, but our staff is feeling the housing pinch."
Neither gentrification nor housing affordability were concerns back when Cumberland Mayor Leslie Baird, who began her third term last October, was first elected to council 29 years ago. Even if Baird had a crystal ball back then she wouldn't have envisioned the remarkable evolution her humble village has undergone, from blue-collar town to hipsterville. These days she sees listings for properties not in Cumberland but that reference proximity to her community in an apparent effort to cash in on the village's cachet.
It's an irony not lost on Baird. "I've got to say it feels pretty good," she says with a smile, as she eyes up a stack of documents on her desk at the village office.
Becoming Legendary
It's hard for Cumberlanders not to feel a little smug these days — so smug the village adopted "legendary" as its motto a few years back.
"I used to shout about Cumberland from the rooftops and people laughed at me," says Meaghan Cursons, a community activist who discovered Cumberland on a whim in the mid 90s and has been a central figure in the village's arts, culture and music scene ever since.
Cursons shouts from the rooftops no more — or at least the tune has changed. Cumberland has become a brand and is in many ways selling itself, maybe even overselling itself. Now it's time to carefully chart the future.
Today, the village is at a crossroads as it ponders how to maintain the quaint heritage character and access to recreation that's its calling card. Core issues involve how to manage the influx of people and how to avoid bland suburban sprawl of the available land on its outskirts and around the Inland Island Highway interchange.
These are issues facing the village, but right now you could teach an urban planning course around Cumberland and learn much about what makes a community successful, though it would be difficult to bottle and replicate elsewhere.
The village has an enviable location, surrounded by a working forest and tucked up against the Beaufort Range with Comox Lake as its backyard. But the curious zeitgeist of Cumberland has more to do with history and human capital. Its historic centre is compact and picturesque, with tales of the past that almost ooze from the architecture.
And while every community has its story, Cumberland's has taken on near-mythological status. In the early 20th century, it was the capital of Robert Dunsmuir's coal mining and timber empire. An ethnically diverse immigrant workforce came to toil in Dunsmuir's notoriously dangerous mines, and at one time Cumberland had the largest Chinatown north of San Francisco.
Indeed, the Canadian labour movement has deep roots in Cumberland, something Adam shares with customers at Cumberland Brewing.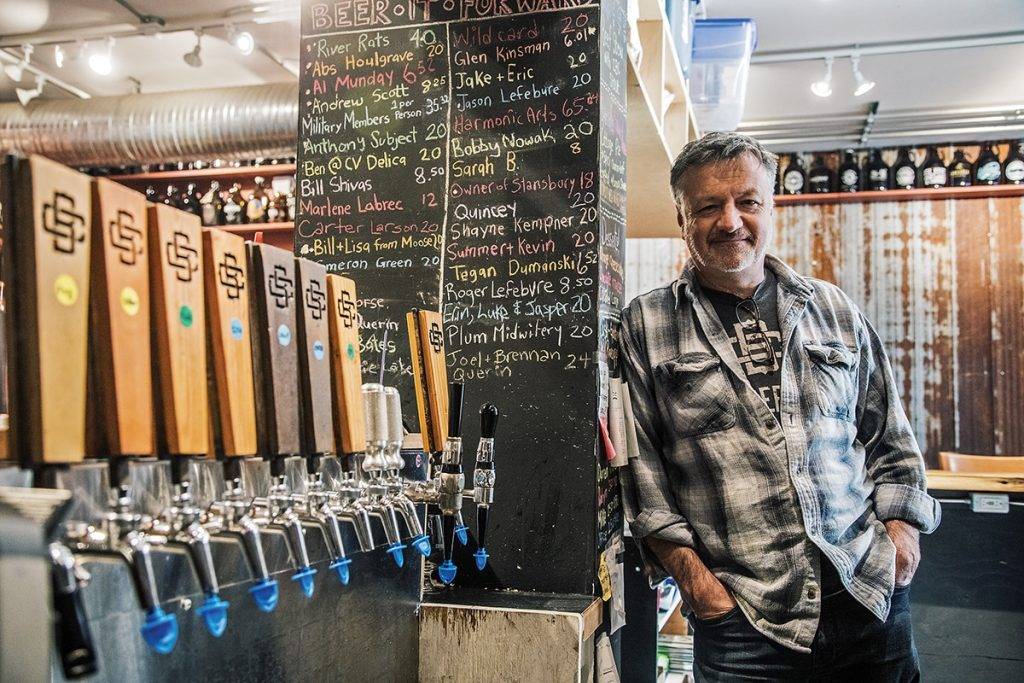 "I often meet people sitting at the bar who are new to Cumberland or visiting and they're trying to put their finger on what makes this village tick," he says. "And I tell them, for one it's the birthplace of the Canadian labour movement."
Just as Cumberland's story resonated with people like Meaghan Cursons back in the 90s, it remains a compelling part of Cumberland's appeal. In fact, every July, labour reps and activists still gather to pay tribute at the tombstone of Ginger Goodwin, a union-organizing coal miner and pacifist gunned down in 1918 by a government deputy, an act that is still viewed by many as a state-sponsored assassination. His killing sparked the first general labour strike in Canadian history, and the gritty anti-establishment legacy of Goodwin continues to inform Cumberland's pugnacious civic pride and independent spirit.
The village's story is also on full display at the annual May Day parade. Along with traditional parade fare, including a May Day queen waving regally from a vintage convertible, there are people riding colourfully adorned $8,000 mountain bikes representing United Riders of Cumberland (UROC), a non-profit that forged a land-use agreement in 2016 with Hancock Resource Group and TimberWest Forest Corp. That agreement legitimized a 200-kilometre network of trails, enabling the village to leverage this tourism asset that has growing global appeal. Cumberland plays host to numerous sporting events, including the BC Bike Race, which brings 600 mountain bikers
from more than 30 countries to race on local trails. Not bad for a village that was once written off for being a derelict and dying resource town.
It's the Economy
Not surprisingly, the village's unique history and vibrant culture gets frequent mention in Cumberland's recently minted 2018–2023 Economic Development Strategy. So does a dire need for hotel beds — a lack of tourist accommodation is at least partly to blame for Cumberland's businesses not benefiting as much as they could from visitors who come to bike and hike in the community's forest, hit the beach or go rock climbing at Comox Lake, or ski at Mount Washington.
The plan also recognizes the need to diversify Cumberland's tax base into industrial, light industrial and commercial development for much-needed relief for residential ratepayers, "Cumberland has some of the largest chunks of remaining industrial zoned land in the Comox Valley," says economic development coordinator Kaelin Chambers.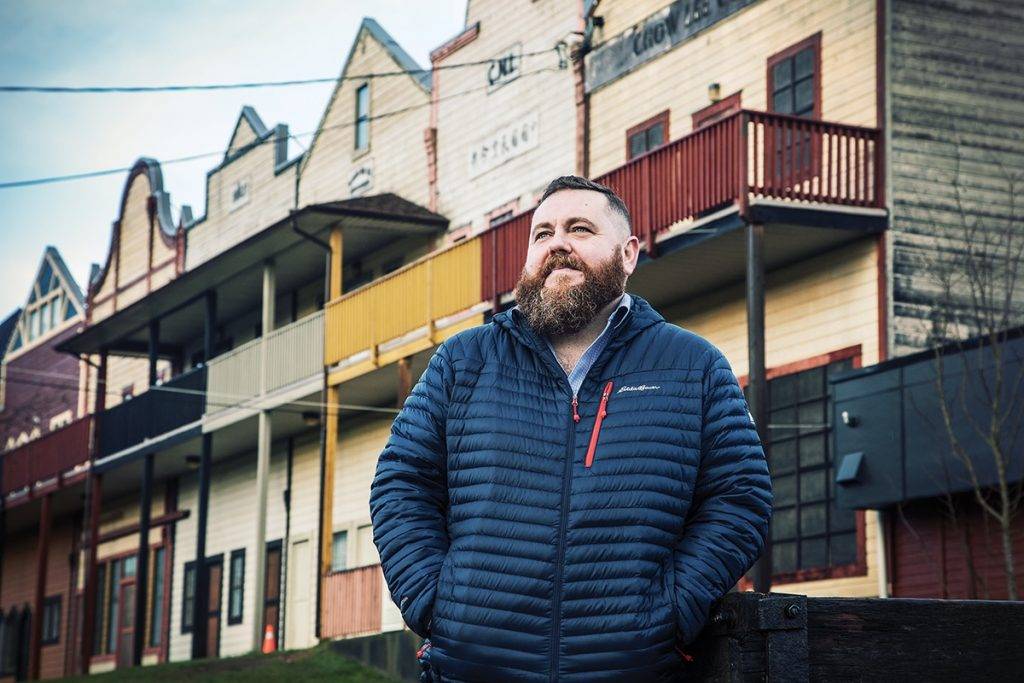 The village has an agreement in principle with the Comox Valley Waste Management Centre to harness methane gas that could be used to service an industrial park. Though it's early days, Chambers says industrial cannabis production has been identified in the economic development strategy as one of the potential uses for this vacant land.
It's taken a long time for Cumberland to crawl out from beneath the shadow of its Comox Valley country cousins, Courtenay and Comox. Until recently, Cumberland fell under the umbrella of the Comox Valley Economic Development Society (CVEDS) to which it paid $40,000 a year. But many Cumberlanders felt for too long that the village was being poorly served by this regional economic development function. So in 2016, Cumberland council voted to opt out of CVEDS.
Then, last May, the village hired Chambers, who had relocated from Vancouver four years earlier with his wife and small child, as Cumberland's first-ever staffer dedicated solely to economic development.
The decision to wave so long to CVEDS was more than pragmatic; it was also symbolic, Cumberland's way of saying it was growing up and no longer willing to play third fiddle to Courtenay and Comox.
In keeping with its civic-minded ethos, in 2015 Cumberland became Canada's first "buy-social" community, adopting a social procurement policy. When contractors were asked to submit bids for a major upgrade to Dunsmuir Avenue, including dedicated bike lanes, part of their bid had to include in-kind or cash contributions to community projects. Consequently, the successful winning bidder J.R. Edgett Excavating donated $10,000 in material and labour to the construction of Cumberland's new skate park. 
One phrase that stands out conspicuously in Cumberland's economic development strategy is attracting the "right kind" of business and investment, something open to wide interpretation. Chambers defines it as "a business that gives back," and that means more than paying commercial taxes. It's as much about volunteering to sit on committees and supporting community events as it is about a financial commitment.
The Community Building
Stroll down Cumberland's Instagram-ready, heritage main street and you'll see any number of local businesses who view supporting their unique community on par with turning a profit. Homegrown firm Harmonic Arts makes plant-based medicinal health products from an operation across from city hall.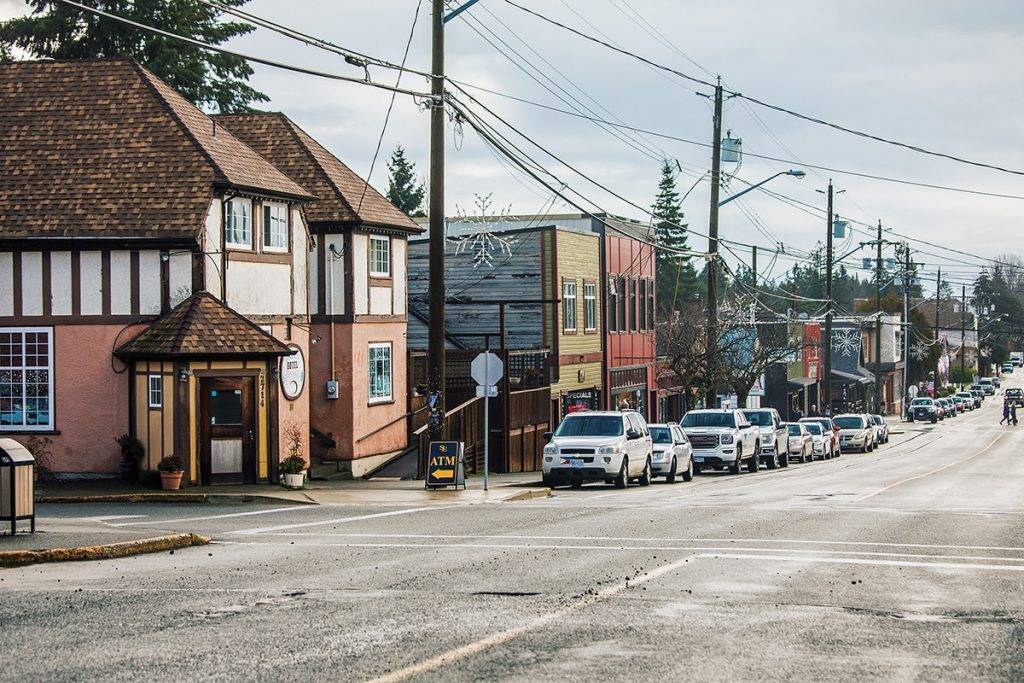 And last year marked the 15th anniversary of the Riding Fool Hostel, located on the second floor of a two-storey 1895 vintage wooden building that was once the local hardware store. Owner Jeremy Grasby, a key player in local tourism and mountain-biking advocacy, opened the hostel back when Cumberland was still a local's secret and relatively sleepy. Downstairs from the hostel is Dodge City Cycles, another longtime local business that has weathered more than one slow day of sales before Cumberland was discovered by the hipsters. When owner Dan Espieth decided to get into the bike business in 2000, he could easily name all the local riders, first and last. Today the trailhead parking lots is often overflowing with vehicles, an increasing number with U.S. plates, and the scene has grown to make it possible for a second bike store (Beaufort Cycles, opened in 2016).
For a time, the village was also home to the successful gaming company Hinterland Games, launched by Raphael Van Lierop, but the company shut its studio in Cumberland two years ago and moved to Vancouver while adopting a partially distributed workforce model. It was a loss of well-paying jobs for Cumberland, and indicative that it takes more than a small town vibe to attract and keep businesses. Yet new small businesses continue to pop up and thrive. 
More Reading:
Cumberland BC Is Hip To Growth
Promote your business to new people on our popular Victoria business magazine !