When was the last time you lit up a dull urban parkade with your own musical mixing skills, or changed the colours of the branches on an illuminated tree by clapping or yelling? 
Thought so.
Well, there's no time like tonight. Thanks to a couple of arts-focused tech companies, Victoria is now home to a growing number of interactive art installations that are delighting the senses and drawing crowds.
Take, for example, the musical staircase on the south side of the Bastion Square Parkade. Designed by tech-based art installation company Monkey C Interactive and funded by the City of Victoria through its Art on Parkades public art competition, each of the staircase's 10 landings lights up and plays music depending on how users interact with a series of tiny photon sensors embedded in the metal railings.
Effectively, this staircase is a 50-foot-high musical instrument. It's not advertised, nor is it really explained (there is a small placard at the base), but the staircase's flashing lights and synthesizer riffs are easy to figure out — and they're a powerful magnet for community interest and engagement. As people stumble upon it, they delight in it, tell passersby about it, post about it on social media and come back with friends in tow.
"Because it's an active thing, interactive art can engage people differently than other kinds of art," says filmmaker and media artist Scott Amos, one half of Monkey C Interactive. "It's a terrific way to draw people to a part of a neighbourhood, gather them on a street corner or spark conversations at a storefront."
Amos tells me about Atagamaton, a motion-controlled kinetic sculpture that was housed in Victoria's G++ gallery a few years back. Created by Amos and his business partner David Parfit in collaboration with Victoria's Limbic Media, Atagamaton tracked users' hands to trigger sound and motion. The novelty drew people together in their exploration of this weird and wondrous moving machine, says Amos, recalling a posting on Craigslist from someone who had connected with a complete stranger over the motion-controlled art piece. "It basically said, 'Hi, we played on this thing and we never actually met, so I wanted to reach out,'" says Amos. "That changed our perspective on what our art can actually do."
Built over a series of months and officially launched in July 2016, the musical staircase immediately drew crowds.
"By the end," says Amos, "we couldn't work on it any time of the day except between 2:30 and 5:00 a.m. or else we'd have to stop people from playing on it so we could work on it. We'd be working on it and we'd hear people come up with their friends and say, 'Oh my god, you have to see this thing.'"
Other interactive art installations are creating visual interest and sparking conversations in town, including the colourful motion-reactive ThinkCubes along Harbour Road at Dockside Green — another Monkey C project, sponsored by InterArts, Rifflandia and others — and the Innovation Tree at Government and Wharf.
A collaboration between the Downtown Victoria Business Association (DVBA), the City and VIATEC, the Innovation Tree's 1,000 LED lights change and flicker as they respond to nearby sounds.
"The tree interacts with its environment," says Justin Love, president of Limbic Media. "You see a horse walk by, and you can see the lights reacting."
Limbic's sound-reactive Aurora lighting system means the colour of the Innovation Tree's lights can be changed remotely, with a few clicks on a smartphone, thereby reducing costs. "So the installers for the City and DVBA don't have to take down the lights every Christmas season," says Love. "It can be reprogrammed." Green for St. Patrick's Day, for example, or red and white for Canada Day. (Naturally, the lights react to the fireworks, adding to the spectacle.)
It's the Experience that Matters

While direct ROI for interactive art installations is difficult to measure, there is no arguing that they change the nature of a space in a way that something more static — say, a mural — simply can't.
"It's a bit like how they have transitioned the experience with malls," says Love. "It's not just about the shopping; it's about the whole experience of being in a place that's nice, with fountains and lights and maybe a rink and tree at Christmas. The more people you bring, the more people will buy."
It's a powerful business move, too.
"Interactive art is pretty close in line with any other branding effort a company could have if they want to be perceived as thoughtful and participatory," says Joey MacDonald, director of programming for Thinklandia, Victoria's creative festival held every fall.
"Companies sometimes view art as a luxury that's only accessible with a surplus of energy or time or money. But if companies innovatively incorporate it, it works on a higher level of brand recognition than any other piece of material they produce."
The Art of Placemaking

But it's not all just about driving revenue. Interactive art goes deeper than that, to the way a community sees and responds to a space. "For me, it creates a sense of wonder and some reason to go to that location," says Love.
He and Amos also recognize art's power to transform not just a space, but people's opinions.
"At first there was pushback … by people who complain about how our tax dollars are spent," Amos says of the staircase (Love fondly refers to those critics as "cranks"), "and there was a pile-on of hate online before it was even built."
But once Victorians discovered and began to talk about the musical staircase, sharing it on social media and building buzz, the haters stopped complaining.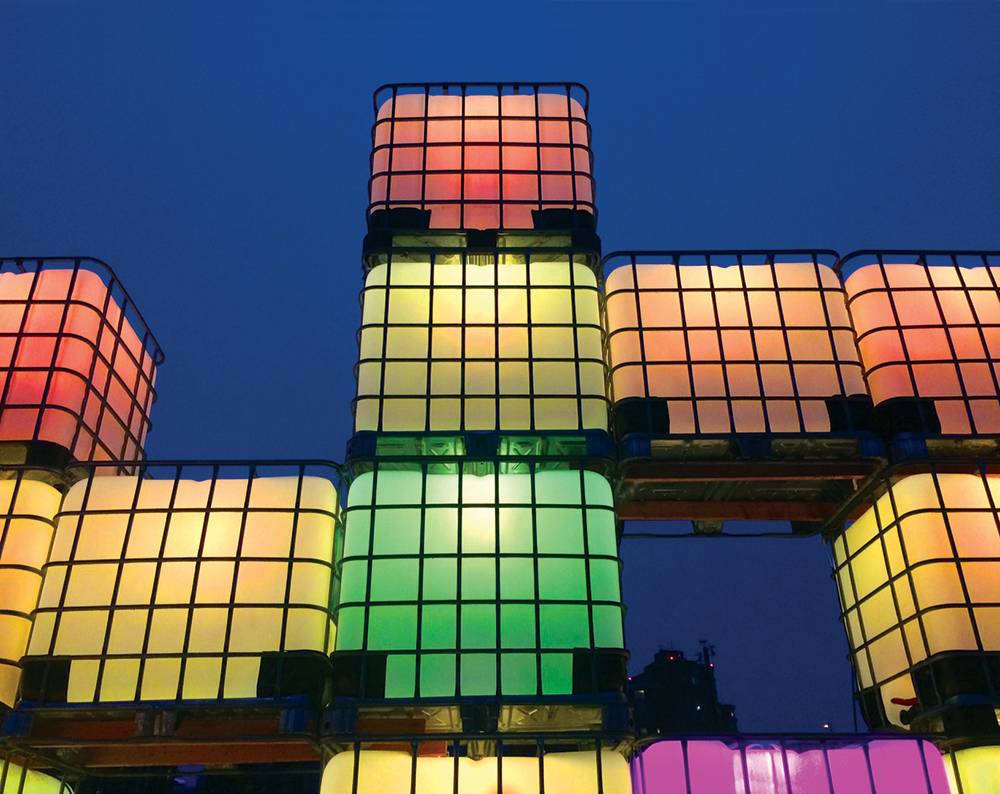 The Power of Placemaking

And so it is with other installations: the ThinkCubes have become so connected to the Vic West visual experience that people want to be reassured that these magical, changeable light-up cubes won't be taken away, says Amos. "It becomes part of the community identity."
MacDonald points out the power of interactive art in wayfinding and placemaking. Love agrees, reinforcing Amos's observation that it promotes community connection. "As we build more of these interactive, public-engaging locations in the city," he says, "I see us having an interactive art walk from location to location."
There's a healthy and growing interest in public art now, a fact that arts supporters and creators find encouraging, though there are still gaps in basic support mechanisms and organizational capacity to develop and create public art projects and partnerships, says MacDonald.
That's very much the end game of initiatives like Thinklandia: bringing artists and property owners together into a framework where projects can work for both.
"Arts funding is always changing," MacDonald says. "[Interactive art] is one of the most straightforward arguments for private money participating in arts processes. It's a very dynamic way to be investing in the community," he continues. "It has real and visceral outcomes."