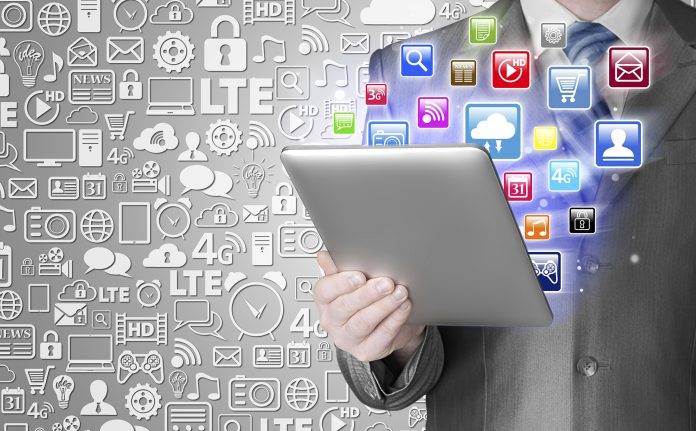 The latest apps and service software for business can help you run your company better and gain the competitive edge. But with so many tech tools out there, how do you know exactly what you need?
It's never been easier to find robust yet streamlined tools for managing your business thanks to a grand slam of software as a service (SaaS) and mobile apps that have rendered obsolete many of the pricey, unwieldy enterprise solutions of the past.
Here are Douglas magazine's picks for the top-rated business tools for 2015. Most of these are fairly new to market, but we've included a few seasoned ones that have kept their relevance by paying heed to consumers' demand for mobile solutions.
Business Planning
If you don't have a business plan, you don't know where you're going. Maybe you think you can keep it all in your head or on notebooks or napkins, but probably not. The business-planning process is as important as the plan itself, forcing you to think strategically about where you are steering your business and how you get there.
StratPad is cloud-based business planning software developed by a Victoria-based firm. This well-thought-out planning tool asks vital questions about your business, then it creates the necessary financials. StratPad's step-by-step approach is simple and practical for startups and small businesses, and helps you easily create a bank- or investor-ready business plan.
Business Model Canvas is a different take on the traditional business plan. Its grid-based approach allows you to describe, design, challenge, invent and pivot your business model.
Finance Tracking
When businesses don't keep track of invoicing, cash flow and projections, they dramatically increase their odds of failure. These easy-to-use, small-business-sized tools will keep you on track at a scale you can handle.
FreshBooks' claim to fame is that it "gives small-business owners comptroller skills" via a cloud-based platform. It enables small firms to operate at levels as sophisticated as large organizations. FreshBooks Mobile makes it easy to manage accounting needs on-the-go. It auto-synchs with the web application for a seamless mobile-to-office transition. More than accounting software, Freshbooks allows you to create, send and track invoices — and it tells you when your client has viewed an invoice.
Harvest has a simple, intuitive interface that allows your team to track time, invoice, send scheduled invoice reminders and estimate future projects, all in real time. Harvest has powerful reporting capabilities and includes a feature that allows you to snap photos of receipts and store them in Harvest with its free iPhone and Android apps.
Beanstream, which launched in Victoria in 2000, has become an online and mobile payment-processing success story, with a proven reputation as a bank-neutral, secure gateway for merchants. Now, with Beanstream Mobile, merchants can accept cards using tablets or smartphones equipped with the company's mobile app and Beanstream's card reader. Swipe or key in credit or debit card info, accept and track cash, check transactions, capture online sales and use the app to print, email or text a receipt.
Founder Suite is a suite of five web apps for entrepreneurs working on a new business service or product idea. Its Idea Validation module and Idea Summary tool help you sharpen your ideas. It also includes a question database and social survey tools to run focus groups of peers, advisors and target customers and to A/B test your ideas.
Time and Task Management
With so many things going on and too few hours, staying on track can be overwhelming. These time and task tools will help you streamline and organize everything from workflow to delegation, so you can free up time for what you need to focus on — building a better business.
Nimble overcomes the problem of too many contacts in too many places by gathering your contacts' conversations from Facebook, LinkedIn, Twitter and more in one place so you can listen and respond in real time. Each interaction becomes part of the contact record so you always have context.
Evernote makes it easy to create digital notes and notebooks that store everything you could ever want to remember — from reports and receipts, to websites, notes, voice memos and photos. Evernote keeps information synched between your computer, smartphone or tablet, and all of this information is easily searchable. With the mobile app, just take a picture of something you want to remember and Evernote will pull out text and context from the image for easy reference.
Pipedrive is nowhere near the size and stealth of Salesforce.com, but it's a slick, easy-to-use sales pipeline tool for small businesses who don't want big solutions, big prices or big learning curves. Pipedrive lets teams view all deals on a visual sales pipeline, organize contacts, follow up on leads, do sales forecasting and work from anywhere with Pipedrive's iOS and Android apps.
Wunderlist is an incredibly easy-to-use tool for managing business or lifestyle activities. It allows you to schedule tasks, create reminders and delegate to other team members.
Timeful bills itself as intelligent time management. Just tell it what you want to do and its advanced algorithms will suggest when to schedule them. The longer you use Timeful, the better it is able to build a more personalized schedule.
Asana is a robust task-management system giving basecamp.com some serious competition. Create tasks and flag them with due dates, assign them, attach files and add notes, and use comments to share with your team, or create internal checklists. Tasks can be grouped according to project, which means team members can brainstorm, assign subtasks and collaborate easily. A mobile version is available for iOS and Android.
Marketing and Engagement
Marketing today is an omni-channel endeavour and its success depends on effectively reaching customers and assessing how they are responding to your messaging. These tools give you more creative ways to reach customers, plus the ability to view your market from various angles.
Maptive transforms raw location data into customized Google maps. Plug in your data to track everything from customer distribution to delivery locations. Create territories based on travel time, customer size, yearly income and more. Filter data and view it at multiple layers of granularity on a single map.
Mailchimp has some worthy competitors, like InfusionSoft, but the "chimp" is still king for functionality. With Mailchimp, you can design and send emails and gain insight about your campaign. Click a subscriber profile to see engagement, website activity, and more. Send automated emails based on customer behaviour and preferences and use the detailed reporting to discover best send-times and more.
Adobe Voice helps you produce 60- to 90-second videos in minutes, using voice recordings, motion graphics and images. Create animated, design-savvy videos just by pushing a virtual button on your iPad, speaking a sentence, choosing an image or icon, then repeating. The app comes with music selections and over 25,000 graphic images. View on any mobile device; share easily on social media.
Shopify is an e-commerce platform that gets great reviews. It offers more than 100 SEO-friendly website templates to choose from, simple pricing and an
easy-to use interface.
Buffer is a terrific tool for scheduling and posting social media. Just create a content lineup and use Buffer to choose which social profile you want to post that content to and when. Buffer can link to your Facebook pages, profiles and groups, Twitter, LinkedIn profiles and company pages. Buffer also offers intuitive analytics so you know which posts have performed best.
SocialBro is a Twitter tool that maps your audience's engagement on an intuitive graph, creating metrics to help you determine the right audiences to target based on who is most interested in your content. SocialBro also helps you manage your Twitter presence and it delivers stats that show you what's working and what needs enhancement. socialbro.com
LikeAlyzer helps marketers understand and analyze Facebook "likes" received by a business page. It generates reports to show areas for improvement, and its page-rank feature lets you see how you measure up against competitors.
Human Resources
While no business tool can replace the human touch, there are some very smart tech solutions to help you keep track of the hard numbers so you know who is using too many sick days, who is always late, what your turnover rate is and more. This leaves you more time for the personal touch with employees.
BambooHR simplifies HR management without the expense of investing in a full-scale system. Track attendance, time-off requests, employee benefits, contact information, trainings and certifications — all facets of the employee work cycle. In-depth reporting features provide managers with intel on business indicators like employee retention, turnover rates and compliance.
ScheduleBase is a web-based employee scheduling solution that allows managers to easily schedule and communicate with employees, decreasing communication conflicts that can lead to under-staffing and customer service issues. Managers can notify employees by email or texts when schedules are posted. Employees then access the free ScheduleBase mobile app to see their work schedules from their phones, update their availability at any time and view notifications. Managers see current availability when they log in, making it easier to create accurate schedules.
Essential Questions Before You Buy
Will this tool save your business time or money? Many free or almost-free solutions end up wasting your time if they don't perform well, but you can't always go by price. Sometimes free versions work exceptionally well; check the reviews.
Do you have too many tools with overlapping features? Look for tools such as Asana or Harvest that play well with other software.Have you tested out the software with employees? Unless you're a sole proprietor, consult your team before you commit to a software solution, because if they don't like it, you'll end up with frustrated employees and lower productivity.
Does it meet your budget? Some tools seem well priced until you start adding up monthly fees and upgrades. Do the math: a bigger, integrated solution might just be more cost-effective in the long run.